Josie and the Pussycats Channel Donna Summer on 'Riverdale' (VIDEO)
Although they were barely kittens when the great Donna Summer left us in 2012, Riverdale's Josie and the Pussycats have sunk their claws into one of the disco legend's hits, and it is meowtstanding.
"It sounds amazing!" raves Ashleigh Murray, whose Josie heats up Riverdale's annual variety show tonight with her bandmates—and Camila Mendes' Veronica (don't ask, it's a whole Archie thing)—with their take on "I Feel Love," Summer's 1977 classic.
"It was really hard for me to sing because the reference track was pretty close to the original, and Donna had some pipes on her," confesses the effervescent Murray. "Being able to hold a falsetto note for that long and that full? It was tough!"
See Also
Forget the long tails and ears for hats. This Josie leads the Pussycats with style! Also: Could there be a Betty-Veronica Truce?
Tougher still were the emotional chords being struck in the Josie-heavy episode. "I am in it a lot," continues the actress, as excited as the fans are to see more of young Miss McCoy. "You get a better look at who she is and why she is the way she is." So far, it's been made clear that Josie's mayoral mom (Robin Givens) is in her corner, but when her musician father (Reese Alexander) cuts his tour short to attend the variety show, it becomes clear he's not on the same page. Or very nice. "Whenever Josie is losing her minds, it's probably because daddy's home…it creates this level of complexity in their relationship, which is so fun to play."
So how does this performance compare to the Pussycats' debut at that rainy pep rally? "Shooting this one was tough, but not as tough as the pep rally because we were inside!" Murray confesses with a laugh. "But it was a lot of work and there were about 400 extras that day. So almost every time we shot a different portion of the number, the audience was full. It was like going out on stage and doing a performance for all of those people. It was so intense."
Well, we feel love for it. And for Kevin Keller (Casey Cott), who is everything that's right in this world as he does their moves just off stage. Somebody get that boy a set of ears!
Riverdale, Thursdays, 9/8c, The CW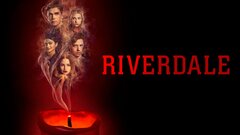 Powered by