Dominic Adams Explains His 'Six' Terrorist's State of Mind
As the recently renewed Six races towards its first-season finale next week, the team's effort to save Rip (Walton Goggins) from his new captors heats up, as does the tension between the ex-SEAL and Michael (Dominic Adams), the American-turned-terrorist who has suddenly found himself locked up with the man who killed his unarmed brother and sent him on the path to radicalization. Now that they're both doomed to become sacrifices in terror leader Muttaqi's deal with Boko Haram, these sworn foes may find themselves forced into a partnership of their own, despite all of the death each of them have caused. Here, the British-born Adams explains where Michael is emotionally after so many years of wanting revenge, as well as what it's like playing a conflicted enemy of the state.
Now that Michael and Rip are face-to-face, what is next in his plan?
Dominic Adams: Michael is fascinated and fixated by Rip, by the very notion of who he is and how he got to the point he did when he killed Omar, Michael's brother. Michael wants to see the whites of Rip's eyes and receive an apology, to feel that it's truthful and sincere. Rip realizing that he did something wrong and that America doesn't always make the right choice is also a part of that for Michael. Now, of course, that may include some suffering and mental anguish as far as treatment of Rip goes. Michael has more than a touch of theatre about him.
See Also
Military advisor Mitch Hall puts the cast (including star Walton Goggins) through some basic training on the set of History's 'Six'.
Of course, there are complications that arise in his plot to make Rip pay.
Well, how the script has been flipped! Not so sure that it's much of a tease after episode 106, but throughout much of the season we saw Michael in positions of power. He tells his higher-up, Muttaqi, what he wants to do, he barters with and plays Boko Haram, toys with Rip in psychological ways. He is in control. All of a sudden that power and control has been ripped out from underneath him, and what are we left with is a man who is hurting, conflicted and vulnerable having to face his biggest demon.
Is this man capable of forgiveness—both giving and receiving?
Michael is an emotional man; he is a human, after all. We see in his being scolded by Muttaqi in episode 106 that he is a man with a depth of feeling and resonance. Forgiveness and the struggles that we have with our relationship to it are a large part of what makes someone human. Michael mentions to Rip in episode 105 that he may forgive him if he follows the plan, and I believe that he still has the strength of humanity to do so. The bigger and more pertinent question is: Can he ever forgive himself for the cross that he bears?
How tricky is it to play a radicalized American who has helped kill so many people?
It's the type of challenge any actor is grateful for. All I ever seek is to dive into a character and find their strengths and their weaknesses. The contradicting nature of those elements, how they stack up inside of a person and then outwardly manifest is what makes a character real. Michael is a terrorist, he is part of something terrible. Yet the fact that he staunchly believes in the reasoning for his actions—the how and why of him getting to that mindset—and that he is an intelligent, rational man imbued me with a real responsibility to depict him from a place of neutrality, not judgment.
Six, Wednesdays, 10/9c, History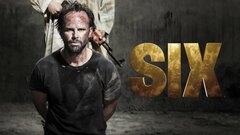 SIX
where to stream
Powered by