What's Worth Watching: NCIS's Don't Ask, Don't Kill?
NCIS, "We Build, We Fight," (Tuesday, Feb. 3, 8/7c, CBS)
The world's most popular TV show (as CBS rarely forgets to remind us) is also among the medium's most confidently and effectively mainstream, only occasionally rocking the boat with "very special" hot-button-issue episodes. But we're now into February sweeps, so it's perhaps not such a surprise for the NCIS team to confront an unusually topical case of potentially murderous homophobia within the military. Although that may be too obvious a motive for the killing of a Navy lieutenant, who was about to become the first openly gay service member to receive the coveted Medal of Honor. Count on Gibbs & Co. to see justice done.
In a lighter subplot, Ducky's genial sidekick Jimmy Palmer (Brian Dietzen), whose wife is due to give birth any day now, is feted with a baby shower. What are the odds gruff Gibbs (Mark Harmon) will crack a smile? Keeping it all in the family, series co-star Rocky Carroll, who plays Director Vance, moonlights as the episode's actual director, making his debut behind the camera.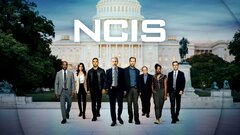 NCIS
where to stream
Powered by