First Look: Gold Rush's Miners Finally Hit Pay Dirt (VIDEO)
XBA9Br91
Discovery Channel's reality series Gold Rush is not only a hit, it's the No. 1 program on the entire network. And here's something you might not know: On Friday nights, it has now been the No. 1 show among key male demographics for the last four weeks — no exceptions.
Last Friday, January 23, Gold Rush averaged 6 million viewers (when Live+3 days DVR and VOD use is tallied) and was tops for the night with men 18-49, men 18-34 and men 25-54, beating everything else on broadcast or cable.
But Gold Rush isn't just for the guys. The show is actually No. 1 on cable in all major demographics, plus total viewers, on Friday nights.
Gold Rush follows a group of ambitious gold miners looking to strike it big in the Klondike. Rival miners include Todd Hoffman, who's looking to redeem himself after a disastrous run in Guyana, South America; Tony Beets, known as "The Viking," who buys a 75-year-old floating gold dredge to pull millions out of the ground; and 20-year-old Parker Schnabel, who is looking to dig up 2,000 ounces — worth more than $2.5 million.
Season five of Gold Rush is continues on Fridays at 9/8c on Discovery. Here's a first look at tonight's episode.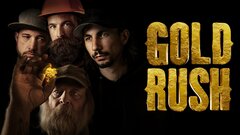 Powered by