First Look: Betty White Has a Close Encounter With a Stripper on 'Young & Hungry'
TV's favorite Golden Girl, Betty White, stops by Young & Hungry as Ms. Wilson, Gabi's (Emily Osment) love guru and downstairs neighbor on the Freeform comedy's March 20 episode.
Somehow, Gabi finds herself hiding out in her elder's apartment on Valentine's Day. "Gabi's in the middle of a romantic crisis," creator David Holden dishes. "She has a ton of big questions about love and Ms. Wilson insists all of her questions will be answered, if she puts on her wedding dress," he says. A dress which White says, "has a lot of charm and a lot of talent."
According to Ms. Wilson, every year she wears it, something magical happens. Is the holiday-themed stripper in Ms. Wilson's living room this year's something magical? "The stripper may have been accidentally sent to Ms. Wilson," Holden admits, but he promises he won't go to waste. "No one does physical comedy better than Betty White, and that scene has some of the biggest laugh out loud moments of the season."
We'll see if Ms. Wilson can help solve Gabi's love dilemma (can anyone?), but as for her own romantic activities, it seems Ms. Wilson may be in the market for husband No. 6. "She's been married five times, but that doesn't mean she's stopped looking for Mr. Right," who Holden says, "may or may not be guest star Carl Reiner," appearing in White's next episode in May. Will it be a love connection? We'll have to wait and see!
Check out our exclusive first look below.
Young & Hungry returns Monday, March 13, 8/7c on Freeform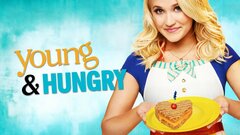 Powered by