What's Worth Watching: More Pawnee, More Problems on Parks and Recreation
Parks and Recreation, "Gryzzlebox" (Tuesday, Jan. 27, 8/7c, NBC); "Save JJ's" (8:30/7:30c)
As Parks and Recreation comes to a close, every episode counts. Executive producer Mike Schur and his team are having fun peppering the final season with characters and references (yes, including Lil' Sebastian) from the comedy's seven seasons. If you were ever a Parks and Rec fan, you need to see it through.
Flash forward to the year 2017. The Chicago Cubs have won the World Series, Elton John now owns Chick-fil-A, journalism has reached the point where a Pulitzer Prize is awarded for "Best Top 10 Listicle" and the latest celebrity feud involves Morgan Freeman and Shailene Woodley. If that's not bizarre enough, underdog town Pawnee is thriving – perhaps for the first time in its history – thanks to the arrival of hot tech company Gryzzl. But Gryzzl (the kind of company that has an executive with the title Vice President of Cool New Shizz) wants to buy some nearby park land, and Leslie Knope (Amy Poehler) won't stand for it. Just like the early days of Parks and Rec, when Leslie sought to turn an empty pit into a park, she's on a mission.
In these two episodes, Leslie and Ben look into Gryzzl's privacy issues; then Leslie tries to keep JJ's Diner open. Parks and Recreation's legacy as one of the best primetime sitcoms ever is already secure. But there's still plenty of fodder to mine in these last episodes as Leslie Knope stakes out a legacy of her own.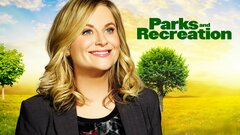 Powered by