Dale Earnhardt Jr. Mounts NASCAR Comeback
A new title sponsor? A new points format? A renewed (and recovered) Dale Earnhardt Jr. heading into the Daytona 500?
The NASCAR off-season certainly dealt fans any number of surprises, some confusing, some exciting. And with drivers in the now–Monster Energy Cup Series preparing to line up for the start of the sport's Super Bowl, Fox analyst Mike Joy believes the end result will be something else new: more eyeballs.
"[NASCAR CEO Brian France] said we need more Game 7 moments," Joy says. The hope, of course, is that the points system will keep fans tuned in throughout. Races will now be broken up into three segments, with leaders at the end of each gaining some points and the winner still getting the most points, plus the trophy.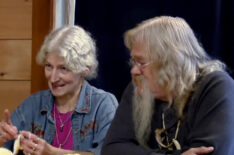 See Also
On the 'Alaskan Bush People' episode 'All Falls Down' (Feb. 8), the hopes for the wind turbine are threatened when Bear and Gabe make a miscalculation.
"Football is played in quarters, baseball in innings and hockey in periods," Joy says, suggesting viewers should embrace a familiar concept. He also believes fans should be ready to embrace a familiar name once the checkered flag flies at Daytona: Earnhardt Jr., who spent a good chunk of last season sidelined with post-concussion symptoms.
"Who are the best drivers [at Daytona]? That list starts and ends with Dale Earnhardt Jr.," he says. "I think on the last lap of the Daytona 500 you'll likely see Dale Jr., Kevin Harvick and Kyle Busch fighting for the win." Joy remains awed by Dale Jr.'s teammate, defending (and seven-time) series champ Jimmie Johnson. "He's won titles now in three different point systems," Joy reminds. But Dale Jr., the sport's 14-time most popular driver, remains in front in Joy's mind: "I think this time off from doing what he most wants to do will make him more dangerous than ever."
Daytona 500, Sunday, Feb. 26, 2/1c, Fox