Fans React as 'Wheel of Fortune' Contestants Flub 'Star Wars' Puzzle
Wheel of Fortune's Star Wars week got off to a hot start on Monday (May 29) when a contestant won the $100,000 bonus prize, but things proved a little trickier for the three players on the May 30 episode.
Faced with a puzzle in the "Fun and Games" category, Christopher Borja, Adura Awosika, and Kate Stafford struggled to find the correct answer, despite the majority of the letters having been revealed already.
The letter board read "_ A M _ _ _ _ O _ T S _ _ _ T H _ M O V _ _ T H _ A T _ R," which led to Awosika guessing, "Gaming outside the movie theater." But, of course, these weren't the letters they were looking for.
In the end, it was Stafford, who was wearing Princess Leia-style buns, who managed to figure out the correct answer, "Camping outside the movie theater."
"Adura is having one of those episodes. Not in a good way," one fan tweeted after Awosika's incorrect response.
"Gaming outside the movie theater"? C'mon son," another viewer added.
Adura is having one of those episodes. Not in a good way. #WheelOfFortune #WoF

— Kristopher Jordan (@kris_m_jordan) May 30, 2023
Right?! Like, have you actually ever Star Warred? 🤣 🤣

— Craig C. Powell (@craigcpowell) May 31, 2023
Despite the struggle with the puzzle, viewers seemed taken by Stafford, with one viewer tweeting, "The little star wars girl on wheel of fortune is so cute rn."
Another fan added, "I like Kate's energy," while one person wrote, "I've been to a few Star Wars conventions and I can say none of the women look like Kate who's on #WheelOfFortune tonight."
In the end, it was Borja who made it to the bonus round, and he even had possession of the $1 million wedge. Unfortunately, he was stumped by the final puzzle, which was "Gifted Young Poet."
Some viewers felt for Borja, complaining that the clue had nothing to do with Star Wars. "If you are going to celebrate Star Wars, at least make the puzzles Star Wars based," one fan wrote. "This is an abomination. There is a whole world of potential puzzles in every category. Do better."
Wheel of Fortune, Weeknights, Check your local listings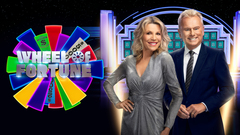 Powered by