How Well Do You Remember 'Sabrina, the Teenage Witch'?
It's a bird! It's a plane! No… it's television's favorite teenage witch Sabrina Spellman (Melissa Joan Hart)! April 24 marks the 20th anniversary of the series finale of the sitcom Sabrina, the Teenage Witch, and we're feeling nostalgic.
The series follows Sabrina after she finds out she comes from a long line of witches on her 16th birthday. She is sent to the fictional town of Westbridge, Massachusetts to live with her two aunts, Hilda (Caroline Rhea) and Zelda (Beth Broderick), and their wisecracking cat Salem (voiced by Nick Bakay). Throughout the series, Sabrina has to juggle her newfound witch identity with her mortal life. Kooky antics ensue as Sabrina frequently turns to magic as a way of dealing with first loves, high school bullies, and academic pressure.
The beloved show of the '90s and early 2000s aired 163 episodes over seven seasons. That's a lot of spells, escapades, and secrets to remember. Put your Sabrina, the Teenage Witch knowledge to the test with a trivia quiz below!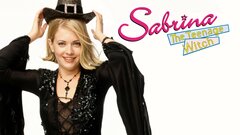 Powered by