'The Resident': Ian Anthony Dale Shares What Changed About Original Plan for James
In The Resident Season 6, before Dr. Conrad Hawkins (Matt Czuchry) and Dr. Billie Sutton (Jessica Lucas) got together, both had other love interests: Dr. Cade Sullivan (Kaley Ronayne) and Dr. James Yamada (Ian Anthony Dale). But don't feel too bad for them.
After all, not only did James and Cade find something between them that is fun (and works!), but if the Fox medical drama is renewed for Season 7 — executive producer Andrew Chapman told TV Insider in January they didn't expect to know until April or May — the hope is we see more of James.
Dale looks back on joining the show in Season 6 and ahead to his hopes if it continues.
You were a fantastic addition to the cast this season on The Resident and I hope there's more and that we see more of you.
Ian Anthony Dale: I had such a great time on that show. From the first conversation I got to have with [creator] Amy Holden, I knew that I would be sort of the resident playboy, free agent, and there were several wonderful potential suitors for my character and we got to see him end up with a couple in the short time I was on the show. The cast was extremely welcoming and so kind. I felt very comfortable there and it was a character and a job that I thoroughly enjoyed getting to experience and I'm holding out hope that they put the sets back up and give it another go for one more season, but fingers crossed.
Yeah, Andrew Chapman had told me that the plan for the character changed once you came in and they saw what you were doing with James.
Yeah, it's interesting because when I first got the offer, I read the first episode and the character came off extremely cocky and sort of rubbed people the wrong way. I did my due diligence in watching about five episodes of the show, and one thing that was abundantly clear to me was that all the characters were extremely likable. And I was like, I don't know if I can come onto the show and be prickly and mean because how is the audience ever going to someone like that and how will a character that ever have any real chance for staying in power?
And so I sort of made this decision to, let me present something that is sort of constructed on extreme confidence, but try to dial back any sort of prickly, douche-y characteristics about him. It seemed to work and I was so pleased that Andrew and Amy responded to the choices that I made. And yeah, it led to me getting to have a lot of fun with that group over the course of the last half of the season.
What do you think it is about James and Cade that seems to have made a relationship between them not only work, but work so seamlessly? I liked them together!
Yeah, it worked. There was a sense of ease between the two. I don't know. It's certainly a relationship that I was hopeful that we have an opportunity to explore further because I saw real potential. Kaley is a wonderful person and actor, and I think we both felt a certain amount of comfort and relaxation around each other to just be able to play and I think that's reflected on screen. And so I'm just happy that the audience was not disappointed by that pairing.
So if there's a Season 7 and you do return, what would you like to do with James?
I don't know. That's really up to Amy and Andrew. Like I said, I'd love to see how things evolve with Kaley's character. I certainly would love to become more involved in the medical aspects of the show. They've done a very good job of introducing new characters throughout the life of the series that have a specific discipline but then find a creative way to fold them into more of the medical storylines. They were starting to do that with my character and I was hopeful that they might attempt to do that in a subsequent season.
So I don't know, I'm at the point in my 21-year-career where if you get an opportunity to work with great people and get excited about going to work every day, then anything you might get built into your character, the story is just an added bonus. And certainly with The Resident, it was a great environment to get to go play. So we'll see what happens. I'd be happy to put the lab coat back on — or take it back off, in the case of my character in his many relationships. [Laughs] But yeah, it's a show that I enjoyed very much.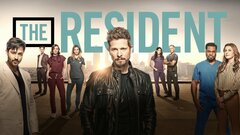 Powered by