'Grey's Anatomy' Season 19 Episode 12: Two Docs Down (RECAP)
Pick Yourself Up
Season 19 • Episode 12
It's the second part of Grey's Anatomy's two-episode event, and Addison (Kate Walsh) and another physician have gone from doctors to patients in Season 19, Episode 12, March 30's "Pick Yourself Up."
[Warning: The below contains major spoilers for the Grey's Anatomy Season 19, Episode 12, "Pick Yourself Up."]
Of the two, Tia (Jess Gabor) is in worse shape after being hit by the car driven by an anti-abortion hit-and-runner. Tia is 28 weeks pregnant, and now she's bleeding out through her abdomen. Grey Sloan's doctors swing into action, even Addison, who's battling through a dislocated shoulder after being clipped by the car.
The docs give Tia an emergency C-section, delivering baby Connor prematurely. Addison and Griffith (Alexis Floyd) take Connor to the NICU. Griffith is a little awe-struck by that environment, since once upon a time, she was delivered at Grey Sloan and spent some of her first moments in the NICU herself.
Meanwhile, Bailey (Chandra Wilson) and Owen (Kevin McKidd) treat Tia, with Bailey updating Tia's husband, Brandon (Chris Warren), over the phone as he flies to Seattle. Tia makes it out of the OR, but she starts bleeding from her liver in the ICU, and so Bailey gets Yasuda's (Midori Francis) help with a Pringle maneuver.
Thankfully, Tia makes it through and wakes up to greet Brandon and baby Connor.
In even better news, Teddy (Kim Raver) finds out — after putting the hospital on lockdown — that the driver has been caught.
And once Connor is out of the woods, Addison reluctantly lets Link (Chris Carmack) treat her shoulder. Link advises Addison to take a break from work, but that's not a reasonable ask for Addison, who's using the Physician Response Team ambulance to provide reproductive care to women across the country.
And, as Addison tells Amelia, it's ironic that she was nearly mowed down for performing abortions, since abortions are the procedure she performs least frequently in the PRT.
In a lighter storyline, Millin (Adelaide Kane) and Levi (Jake Borelli) treat two elderly friends, Norma (Olivia Negrón) and Maxine (Juliette). And Max is Milliin's roommate. (Millin gets to sublet a room for a fraction of the cost of Seattle rent, and she gets to be as loud as she wants every night once Max takes out her hearing aids, she explains.) Turns out, Norma and Max have gonorrhea, and they soon realize they're sleeping with the same man, Hal (played by Jonathan Goldsmith, whom you might remember as "The Most Interesting Man in the World from the Dos Equis ads). Max, for her part, takes the news (and the antibiotics) in stride. She tells Millin and Levi that she's having the time of her life — and great sex — in her silver years.
OK, back to the heavier storylines: One of Maggie's (Kelly McCreary) miraculous heart operations gets a glowing write-up in a medical journal, but Maggie made the mistake of calling Winston (Anthony Hill) her "assistant" in the interview. Plus, the journalist didn't mention that Winston deserves half the credit for the surgical innovation. Winston gets pissed, and Maggie says that she can't control what people write about her, and she asks Winston when they stopped giving each other the benefit of the doubt. "I think it's when you said you don't respect me," he says. Maggie tries to tell him she respects him, but Winston doesn't believe her.
And the episode ends with Addison getting back behind the wheel of the PRT rig — bruised by her brush with an attempted murderer, yes, but not certainly not backing down from giving women the medical care they need.
Grey's Anatomy, Thursdays, 9/8c, ABC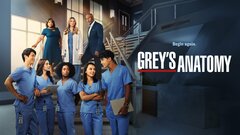 Powered by