Dick Wolf on 'Law & Order: Special Victims Unit's Unaired Trump-Inspired Episode
The cast and crew of Law & Order: Special Victims Unit are no strangers to tackling issues ripped from the headlines, but one episode has proven particularly difficult: a Donald Trump-inspired hour that was pulled from the schedule before the election.
In the episode, the Trump-like figure (played by Gary Cole) was in the midst of a presidential bid when women came forward with accusations about his behavior. The hour was originally scheduled to air in the fall; it was bounced around several possible air dates, before being pulled without any planned schedule.
RELATED: Law & Order: SVU Celebrates 18 Years and 400 Episodes
During a Television Critics Association panel for his new series Chicago Justice, executive producer Dick Wolf admitted the airdate for the controversial episode is still a mystery to him. "I don't know when it's going to air," he said. "The episode is an episode that was written nine months ago. I don't know when it's going to air. I don't control scheduling."
Wolf added: "I never pressure the network to schedule anything in a particular way…I haven't been informed when it's going to air. I suspect it will be this spring. But I don't know."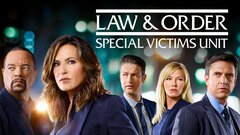 Powered by