Charlotte Flair & Rhea Ripley Talk Tough Ahead of 'WrestleMania' 39 Showdown
Charlotte Flair and Rhea Ripley are counting down to their massive rematch at WrestleMania over the weekend of April 1-2. It's not the first time the duo have met in the ring, of course. Back in 2020, Flair defeated Ripley for the NXT women's championship at the WWE Performance Center, but that encounter was watched by zero fans because of Covid lockdown.
Three years later it's Ripley facing Flair for the SmackDown title in a marquee battle at WrestleMania 39 before a packed SoFi Stadium in Los Angeles. Here champion and challenger open up about their evolution heading into the anticipated rematch on WWE's grandest stage.
"The Queen" Charlotte Flair
The SmackDown champ has many reasons to smile these days. Not only did the decorated performer dethrone Ronda Rousey in December, but she feels a renewed energy after a long break away last year.
"I think I have much more confidence and am in a different place in my life," Flair said. "I'm a married woman and at a different point in my career. I'm more all-around than I have ever been."
It's hard to believe more than a decade has gone by since her WWE career began in NXT. Whether it's Triple H or Vince McMahon, her job has remained the same. The consummate athlete wanted to check every box, an expectation she put on herself. After all, as the daughter of Ric Flair, she had pretty big shoes to fill.
"Nobody's father is Ric Flair. The Michael Jordan, LeBron James. Cody [Rhodes'] dad [Dusty] comes close. Cody's dad is one of the geats," Flair said. "My dad is still active and very much a star in pop culture. My dad is on a lot of people's Mount Rushmore of pro wrestling, so having to step outside that shadow, I feel like Cody and I have had it pretty damn hard"
Flair's journey to WrestleMania main eventer certainly wasn't easy. She hopes viewers of her Biography: WWE Legends episode premiering March 26 find there is vulnerability underneath this modern-day Wonder Woman exterior.
"The one thing Charlotte the character doesn't lack is confidence," she said. "I think me opening up and talking about the body issue struggles, maybe they'll know more about the person behind the character, behind the robes, behind the titles.
"The Charlotte Flair character seems to always have armor on. I think it's very important to send the message just because someone appears a certain way doesn't mean they don't have the same human problems and insecurities others have. I love that I'm getting to show a softer side of myself."
For Flair, a hard part of her story to revisit was the death of her brother Reid, who passed away in 2013 due to a drug overdose. In many ways, she is living his dream of making it in pro wrestling. Every time Flair enters the ring, in many ways, it's in tribute to him.
"I do remember thinking don't cry, don't cry, don't show how emotional you are," Flair recalled on filming the Biography. "I feel like when I do talk about him I do have to hold back those feelings. So many people have lost loved ones. I was conscious of that while I was shooting. I spent so many years trying to save his life, and ultimately, he saved mine… Since this year marks the 10-year anniversary of my brother's death, I asked the head writer of SmackDown if they could put this one photo of my brother in the ring in the video packages leading up to my match with Rhea."
Flair anticipates WrestleMania weekend, deciding what robe she wants to wear for the big event as "WrestleMania Goes Hollywood." She also loves interacting with fans, which she is doing more these days after portraying the villain for so long. It has been a role reversal with Ripley. "I've always found her confident," she said of her opponent. "She is now getting the opportunity to show that confidence and really own that character. Having Judgment Day to play off of and show those different layers. It adds so much. We're both three years better and ready to show that."
Being part of so many firsts for women over the years in WWE is not lost on Flair. Despite Roman Reigns reigning over Raw and SmackDown, she would like there to be separate titles for each brand for female talent to remain. "It allows more opportunities for the women," she argued.
The 36-year-old is forever grateful for the ones who helped pave the way including Hall of Famer Alundra Blayze. Adding, "I would be honored to have her retirement match. That's the first time I actually responded to the challenge. So here you go."
Seeing other legends Lita and Trish Stratus back in the mix brings her joy. Flair finds it further demonstrates age really is just a number. Seeing them come back and kick butt. There is no longer an expiration date on the women," Flair added. "I think that is the biggest takeaway. You can have three kids, live a full life and still kill it in the ring. It makes me want it more."
Rhea "Bloody" Ripley
The dominant Aussie earned the opportunity to face Flair by winning the 2023 Royal Rumble. She made history as the first woman to do it after starting at number 1. When deciding what champion to challenge at WrestleMania, there was only one name in mind.
"This is a real redemption story in a way. I'm facing Charlotte Flair again," Ripley said. "She is someone that I've never been able to knock off in a singles match. It's definitely one of the biggest matches of my career. Knowing how many people will be in attendance at this WrestleMania, it will be so insane. I'm so excited."
The 26-year-old has come a long way. She also sat under the learning tree of Triple H and Vince McMahon. Each helped put the pieces together for her.
"With Triple H, I built up my self-confidence, going out there and being true to myself," she explained. "Reacting to things on the spot as I would and not just doing it to please people. I also learned about cameras and positioning and all the stuff people don't think about. Presenting myself in a way that I am bigger than life…That if I don't believe I'm the best thing there, nobody else will. When I went to Raw and Vince was in charge the one thing I learned most was to be ready for anything. Be prepared 24/7 because things change so rapidly. It was sink or swim. Lucky for me I definitely kept my head afloat and swam."
Ripley's in-your-face fearlessness extends to the men as well. When at ringside for fellow Judgment Day member matches including for onscreen squeeze Dominik Mysterio, "Mami" isn't above taking out dudes. She even had a quick match against Akira Tozawa in the past.
As to whether we'll see more of these intergender showdowns she said, "With the way of the world and with just the business side of things, I'm not sure how far we can go with it. A lot of people are not for it. And we're on live TV and have to abide by rules and regulations. I'm not sure how far we can go, but I like to push boundaries. I know Triple H is the same. I don't know what the future holds with intergender wrestling. But I just hope if it does come to that point, I can be that person to do it again. I think it just has to make sense." If there are more matches versus the men, Ripley named Edge and Rey Mysterio as dream opponents.
One thing that left fans scratching their heads early on was Ripley getting together with Rey Mysterio's son "Dom Dom." The couple often gets some of the biggest reactions on the shows. It's not uncommon for Ripley to hear grown adult males yelling "Mami" at her in public settings, which gets some unique reactions from the non-WWE fans observing.
"A lot of times we go out there and do things we feel like doing," she said. "Yes, WWE is scripted to a certain point, but a lot of time we are improvising. Some of the things Dom says literally make me laugh so hard. People don't give him enough credit. He has come so far in the last couple of years and grown so much, not only as a human but as a performer. It has been really fun to watch."
As Ripley continues to build her career and looks to take down the queen at WrestleMania, she doesn't rule out acting. Perhaps we may be watching the makings of the next big action movie star. "It would be so cool to be the next Rock," she said. Look out, Charlotte Flair. And maybe Dwayne Johnson.
Biography: WWE Legends, March 26, 8/7c, A&E
WWE WrestleMania, April 1 and 2, 8/7c, Peacock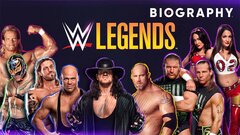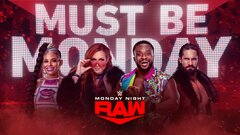 WWE Raw
where to stream