'Star Trek: Picard': Jeri Ryan & Michelle Hurd Look to Seven & Raffi's Futures (VIDEO)
We love Seven (Jeri Ryan) and Raffi (Michelle Hurd) as a couple and are dying to see them back together again on the third and final season of Star Trek: Picard. (Please note, we also love them separately, but come on, these two are perfect for each other!) So far, the two determined souls have yet to meet up, but we have not given up hope.
To help tide us over as we send vibes to the universe for a reunion, the two actresses chatted with TV Insider about what they love about their characters, and what they will carry with them now that the sci-fi hit is wrapping up. They also kindly answered our question, "Where do you hope your character is when she is 80 years old?"
Hurd (who has already made our hearts break for Raffi this season as she desperately tried to stop a terror attack while on a secret mission in District Six) had a heartfelt reply, "Raffi, if she had her wish, when she's 80, I'm just going to say it, she would like to be in her trailer in the desert, with this one."
The actress then pointed to Ryan, who dodged an answer but did lean in as Hurd then put her arm around her. (OK, we'll take that.)
What we did hear from Ryan, whose Seven started out the season as a commander in Starfleet on the U.S.S. Titan – but may have permanently messed up her career after an act of insubordination due to her loyalty to old friend Jean-Luc Picard (Patrick Stewart): "I love Seven's strength and resilience, so I would love to carry that with me."
We're sure she will. Check out the video above to hear more from the stars and just enjoy their amazing chemistry.
Star Trek: Picard, Thursdays, Paramount+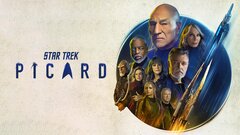 Powered by