'Jeopardy!' Bosses Speak Out About Controversial Champ Jake DeArruda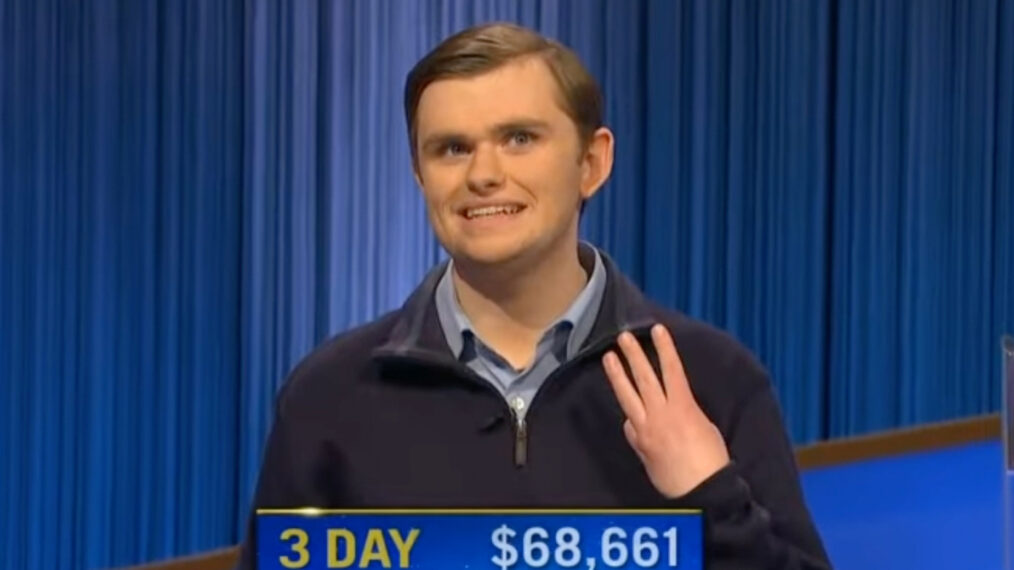 Jeopardy! viewers had plenty to say about recent champion Jake DeArruda, both positive and negative, but now the show's producers have shared their thoughts on the polarizing contestant.
The delivery dispatcher from Ludlow, Vermont, won three games in a row last week, earning $86,00 in the process. But some fans were irritated by his on-screen behavior, including his facial expressions and interruptions of host Ken Jennings.
On Monday's Inside Jeopardy! podcast, long-time producer Sarah Foss spoke with the 2017 Tournament of Champions winner Buzzy Cohen about DeArruda and the online reaction to his performance.
"Let's just talk about Jake," Foss said after recapping last week's episodes. "He's only 23 years old. Ken joked in a post-game chat he's got t-shirts older than Jake. [He] was inspired by Matt Jackson, who was another very strong champion back when he was 23 and just mowed down the competition."
She then asked Cohen how he would have handled himself differently had he taken to the Jeopardy! stage at just 23 years old.
"I cannot imagine having the wherewithal…" he said, admitting that he did consider applying for the show when he was younger as his "backup plan" to getting a job. "But I do not think I would have comported myself very well on the stage."
"I've heard from a lot of people this past week who want to talk to me about Jake, positive, negative, somewhere in between," Cohen continued. "And I think that when you're a smart person, you get up on that stage, especially when you're young… and I'm not one to judge how someone wants to play this game and how they want to be on the stage."
Foss added that many of DeArruda's friends have spoken about what a "genuine, kind guy" he is, and she backed that up, stating, "He certainly was that way to us in the studio when he was here."
"I know everyone wants to share your comments, but it's important to remember these are just people who are coming on the show they love and doing it the best way they know how to do it," she explained.
"I'm encouraging everyone to show a little more compassion on the message boards, a little more compassion out there. Because, again, you would not want to switch places with any of these people and be under the scrutiny that we do put some people under."
Jeopardy!, Weeknights, Check your local listings