'Matlock' Reboot Starring Kathy Bates & 'Good Fight' Spinoff 'Elsbeth' Set for CBS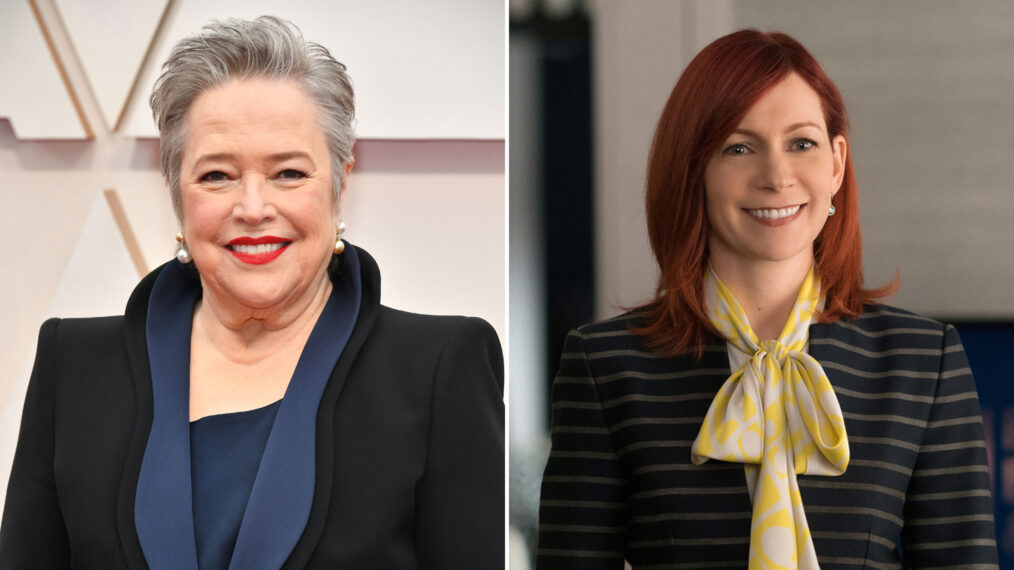 It's a double dose of legal drama at CBS as the network has ordered pilots for two iconic television attorneys.
As reported by The Hollywood Reporter, CBS has given the green light to a Matlock reboot starring Kathy Bates as Madeline Matlock, and Elsbeth, a spinoff of The Good Wife/The Good Fight that will see Carrie Preston reprise her role as attorney Elsbeth Tascioni.
It marks CBS's first two drama pilots for the 2023-24 season. In addition, the network is opening writers' rooms for The Pact and Sherlock Holmes offshoot Watson, with the potential of a script-to-series order for both for the 2024-24 season.
The original Matlock was created by Dean Hargrove and starred Andy Griffith in the lead role. It aired for nine seasons between 1986 and 1995, first on NBC and then later on ABC. The show was a hit and is regarded as one of television's most legendary crime dramas.
Jennie Snyder Urman (Jane the Virgin) is behind the reboot, which follows brilliant septuagenarian Madeline Matlock (Bates) as she rejoins a prestigious law firm where she uses her unassuming demeanor and wily tactics to win cases and expose corruption from within. Bates will executive produce alongside Urman, Joanna Klein, and Eric Christian Olsen.
Elsbeth, meanwhile, comes from Good Wife/Good Fight creators Robert and Michelle King, who are writing the script for the pilot, with Robert directing. It will center around astute but unconventional attorney Elsbeth Tascioni (Preston), who heads from Chicago to New York to help corner master criminals alongside the NYPD. Liz Glotzer is set to executive produce.
As for The Pact, the pilot will be written by Marcus Dalzine (How to Get Away With Murder) and is based on the book The Pact: Three Young Men Make a Promise and Fulfill a Dream by Dr. Sampson Davis, Dr. George Jenkins and Dr. Rameck Hunt, with Lisa Frazier Page.
Watson is set shortly after the death of Sherlock Holmes at the hands of Moriarty, and sees Dr. John Watson resuming his medical career but finding himself face-to-face with Moriarty. Both Watson and The Pact are being viewed as potential series likely to appear in the 2024-25 broadcast season.