New 'Jeopardy!' Champ Jake DeArruda Compares Ken Jennings & Mayim Bialik, Explains How He Beat Troy Meyer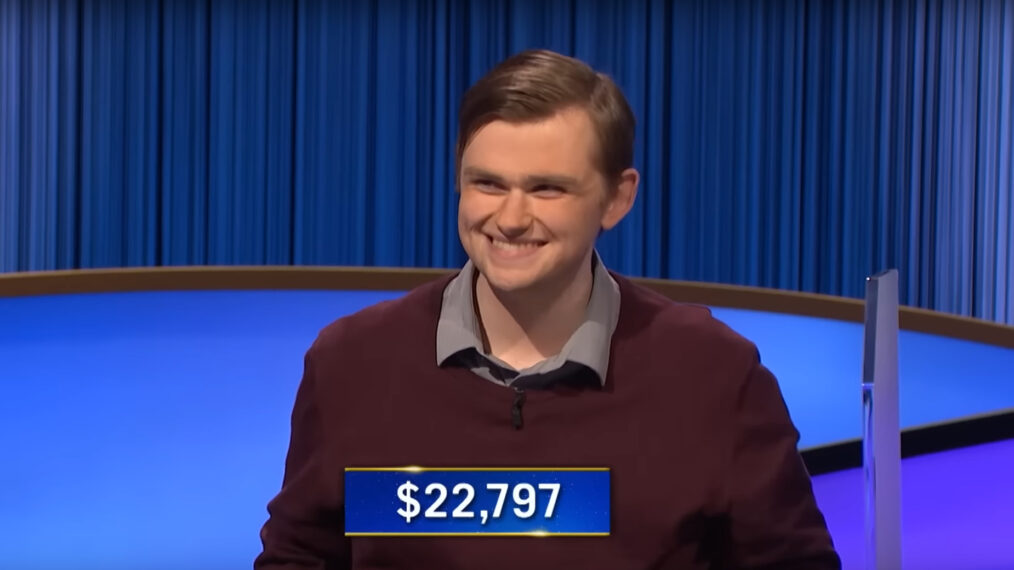 Current Jeopardy! champion Jake DeArruda is opening up about his experience on the show and how he knocked off super-champ Troy Meyer in last Friday's (January 27) game.
DeArruda, a delivery dispatcher from Ludlow, Vermont, shocked viewers on Friday's episode when he beat fan favorite Meyer, who had amassed $214,802 during a seemingly unstoppable six-game winning streak. In a series of blog posts, DeArruda shared his thoughts on the game, along with his views on the show's hosts and past players.
Upon arriving at the studio for his pre-game prep, DeArruda said he found out the name of the current champion, Troy Meyer. He admitted that his "eyes widened" as he recognized the name from the rankings of the World Quizzing Championships and other online trivia games.
"Long story short, Troy is a far superior pure trivia player than Cris Pannullo," DeArruda said, referencing the reigning champion on the broadcast episodes at the time. "He's the top player on LearnedLeague – a league with hundreds of the best past, present, and future trivia champions, and has won the league multiple times. "
He wondered if playing Meyer would be worse than playing Pannullo, who had won 21 games in a row. "Probably not, actually, as Troy has less buzzer experience, from multiple weeks prior (this was the first tape day since before Thanksgiving) and had yet to go through the grind of playing five games in a day yet." (Meyer had won just two games when DeArruda first arrived on set).
DeArruda also said he and the other contestants were told who their host would be, stating that "everyone collectively cheered when Ken Jennings was announced as our host for the tape week."
While he said he didn't want to get into the whole "hosting debacle," he confessed to having prepared by watching Mayim Bialik hosted episodes to learn her cadence so that he could better manage his buzzer.
"It's obvious to close watchers that she mispronounces words, blows through punctuation, and is genuinely inconsistent in her pacing," DeArruda explained. "Ken, meanwhile, has been in trivia for most of his life, so he knows the proper words to emphasize and generally seems consistent with his pacing. This is important for buzzer timing purposes."
However, it wasn't just the buzzer technique that helped DeArruda beat Meyer; he also got lucky with some of the categories.
"Do you ever hear about how much luck is needed to win? Before I flew out, my dad joked about how I should hope to hit a Cliff Clavin board and we determined what would be on mine. Sports, world capitals, country music, Taylor Swift early album cuts, something like that," he wrote.
"I'm absolutely flabbergasted at my luck. There are five clues about COUNTRY SONGS staring at me in the most important 20 minutes of my life."
As for the Final Jeopardy, DeArruda thought he had lost when a category about World Cinema came up. He was certain Meyer would know the correct answer. "All scenarios where Troy can win the game hedge on him being correct," DeArruda said. "And he wasn't."
"It honestly took me a minute to register that he had been wrong… Otherwise, I would have had a hard time keeping my poker face, knowing I had the game won given that Troy, as I predicted, bet everything."
Jeopardy!, Weeknights, Check your local listings