'Teen Wolf: The Movie' Boss Explains [Spoiler]'s Death: 'It Had to Be Very Heroic'
[Warning: The below contains MAJOR spoilers for Teen Wolf: The Movie.]
No, there's no undoing that tragic ending for one of the main werewolves of Teen Wolf in the Paramount+ film.
Teen Wolf: The Movie saw Scott (Tyler Posey), Derek (Tyler Hoechlin), Lydia (Holland Roden), a resurrected Allison (Crystal Reed), and their friends go up against the nogitsune and Oni, due to puppet-master Harris' (Adam Fristoe) work, and in order to win, a sacrifice had to be made. In order to hold the Nogitsune still for hellhound Parrish (Ryan Kelley) to kill him, Derek sacrificed himself and was burned up as well. Scott and Allison took in his son, Eli (Vince Mattis).
Creator Jeff Davis explains that decision.
Talk about the decision to kill Derek. Why and why in the way that you did?
Jeff Davis: Killing Derek wasn't something that we came to lightly. It was a big decision, and I always feel that if you're gonna do a movie as opposed to just another episode of TV or a reboot of a TV show, you need to make those big decisions and those big sacrifices. You need to make it monumental. But I wouldn't have done it without Tyler Hoechlin being fully committed to it. So I called him one day when we knew we were getting closer to negotiations and that he was actually gonna do the movie and we were gonna find time in his schedule for it. I said, "What would you think of us giving Derek Hale a big sendoff?" And he said, "Tell me what you're thinking."
We built it from there. I knew that it had to be very heroic. I knew it couldn't just be a tragic ending. I love sacrifices in movies. That's the greatest thing a hero can do is sacrifice themselves for the good of others. Sometimes the death doesn't feel right. Sometimes it feels forced. It's a tricky thing to do with a beloved character.
Did you ever consider not killing off Derek at any point after you talked to Tyler?
Oh, yeah. I was on set thinking, "oh my God, did we make the right decision? Maybe I should do a rewrite. Maybe we should put something in the end. Maybe we should do this or maybe we should do that."
So you didn't think about any hints because that montage showed everything that he had been through and everything he had survived.
There was one thing, but I can't tell you what it was. [Laughs]
Oh, that's a tease.
You can let the audience know that yes, there were ideas and there were second guesses about his death.
Did you consider killing off anyone else in the movie?
No, I don't think so. Because you never really want to do it just for the shock of it. You want to sit down and say, is this a meaningful death? Is this something that, yes, a lot of the audience might hate it and be angry, but some of the audience might say, oh my God, that was perfect. You take that risk and you have to take that risk. Otherwise, what's the point? I don't want to play it safe.
Teen Wolf: The Movie, Streaming Now, Paramount+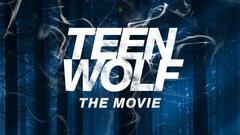 Powered by