Christopher Meloni Teases Steamy Stabler & Benson 'SVU' Scene on 'Today' Show
Law & Order: SVU fans are counting down the hours until Thursday's (January 26) episode, where they're hoping something will happen between Captain Olivia Benson (Mariska Hargitay) and her former partner Detective Elliot Stabler (Christopher Meloni).
The excitement started earlier this month in a promo for the January 26 episode that showed a brief clip of Benson and Stabler practically nose-to-nose in what looked like an intimate embrace. Fans have long wanted the characters to get together, and this is the biggest sign yet that it might finally be happening.
Meloni remained coy when he appeared on NBC's Today show on Wednesday (January 25), dodging the question and choosing instead to mysteriously stare into the camera for 30 seconds. The Emmy-nominated eventually broke his star and started laughing.
Benson and Stabler … is it on? 👀 @Chris_Meloni pic.twitter.com/kqR2Q9Hrsb

— TODAY (@TODAYshow) January 25, 2023
Today hosts Hoda Kotb and Savannah Guthrie pushed him on whether or not he kissed Hargitay, showing a slowed-down version of the teaser clip. "We're coworkers; we don't hold each other's faces this way," Guthrie joked.
"She needs to tell me something that is very important," Meloni said, later adding, "I was just asking about her beauty tips.

When pushed further, he gulped and stated, "I want my lawyer."
"We're coworkers, we don't hold each others faces this way …" –@SavannahGuthrie and @hodakotb grill @Chris_Meloni about a steamy tease image of Stabler and Benson from an upcoming episode. pic.twitter.com/2Jy313WLaW

— TODAY (@TODAYshow) January 25, 2023
"Did you or did you not kiss her?"

"I want my lawyer."

DUN DUN. @Chris_Meloni talks about Stabler and Benson's relationship and his upcoming projects. pic.twitter.com/kljgJ2CA9j

— TODAY (@TODAYshow) January 25, 2023
He did open up about filming the "intimate" episode, revealing that he and Hargitay didn't do anything "too different."
"When you've been friends and co-workers, and, you know, have the kind of relationship we have, you are presented with what the scene's about, and you get in there," he explained.
"I will say, on my part, it was an interesting scene, a delicate scene, a difficult scene… awkward, but that's all good," he continued. "Because I think those were all elements that were part of the scene."
What did Chris and Mariska do differently to prepare for this more intimate "SVU" episode? 👀 pic.twitter.com/atxiSQ6jHQ

— TODAY (@TODAYshow) January 25, 2023
When asked if he did anything to "set the mood" before filming the scene, Meloni quipped, "I popped a breath mint." Of course, this immediately set fans expectations of a kiss.
"He popped a what, did I hear that correctly??!!" wrote one fan on Twitter, while another added, "You popped a breath mint – u don't think I see what ur doing but I do sir!"
Fans will have to wait until tomorrow night to find out what happens.
Law & Order: SVU, Thursdays, 9/8c, NBC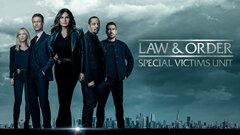 Powered by