'Abbott Elementary': Barbara Helps Jacob With Fundraising in First Look (VIDEO)
Abbott Elementary is getting in the candy sales business for its latest episode aptly titled, "Fundraiser," and Jacob (Chris Perfetti) is seeking advice from wise educator and colleague Barbara (Emmy and Critics Choice-winner Sheryl Lee Ralph).
As the organizer of the fundraiser itself, she's telling the classroom about the importance of sales which she's trying extra hard to make sure the pupils will attain their goal funds for a school field trip. "Class, pay attention," Jacob says to his students with Barbara right beside him. "Mrs. Howard has graciously sacrificed her free period to encourage you all to get more involved in the fundraiser," he explains in the clip, above.
Of course, Jacob can never just leave the comment at that as he adds, "For the record, I hate hustle culture, but this is important."
Barbara just lets the comment roll off of her shoulders as she addresses the class and Jacob. "Thank you, Mr. Hill. Unfortunately, this fundraiser is a necessary evil, but when you are out there selling your candy hold your head up high," she encourages. "We are not asking for handouts."
Jacob chimes in once more, responding with a lingering, "well…"
As the scene shifts to Barbara in the hallway, she explains to the cameras, "I'm leading the fundraising effort for the field trip to the Franklin Institute. It is so important for our students to experience a world-renowned science museum, and we may not have discretionary funds, but we've got grit, guts, and a lot of chocolate."
See what other advice she's serving up to the students in the scene, above, along with a signature awkward moment for Jacob ahead of the episode's premiere on ABC.
Abbott Elementary, Season 2, Wednesdays, 9/8c, ABC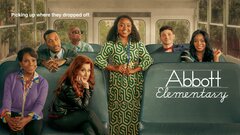 Powered by