Leslie Jones Shares Thoughts on MLK Statue as She Guest Hosts 'The Daily Show'
Saturday Night Live alum Leslie Jones kicked off The Daily Show's guest host era on Tuesday (January 17) night as she took to the desk to tackle a number of topics, including her thoughts on that new and highly suggestive MLK statue in Boston.
The new Dr. Martin Luther King Jr. sculpture was unveiled on Monday (January 16) in honor of MLK day, but it quickly drew attention for its somewhat unusual pose. The statue is supposed to depict King lovingly embracing his wife, Coretta Scott King. Jones saw a different kind of embrace.
"Has anyone in here ever been eaten out?" Jones asked the studio audience after examining the picture for a few seconds. "I'm serious," she continued, "Has anyone in here ever participated in the munchy, munch, munch, munch."
"Because they are celebrating you right now in Boston!" she added. "Listen, I know Dr. King went down in history, but this is not how you show it."
Before continuing her roast of the statue, the Ghostbusters star turned to a different camera to directly address her white viewers. "White people, you don't need to be saying s*** about this statue!" she said. "You need to sit your ass in the back of the bus for this one. You need to honor this statue; this is a civil rights icon… going down on his wife. You show some damn respect!"
After composing herself, Jones turned back to the main camera and said, "Okay, Black people, what the f*** we gonna do? You know it's messed up when Black people and the Proud Boys hate the same statue."
Viewers seemed to be impressed with Jones' first night on the job, with many taking to social media to share their praise.
"This is the first thing to make me laugh all day. I haven't stopped. Holy hell this is hilarious," tweeted one fan, while another added, "Well, seems like @Lesdoggg absolutely crushed it in her @TheDailyShow debut."
"Let this woman have Her Show!!!!!" wrote another viewer. "I was nervous…to follow up my guy @Trevornoah oh man…but they are killing it," said one fan.
Jones is one of several guest stars who will be hosting The Daily Show over the coming weeks following Trevor Noah's exit. Noah said his final farewell to the late-night show in December as he turned his focus to stand-up comedy and traveling. Other upcoming guest hosts include Chelsea Handler and Roy Wood Jr.
The Daily Show, Weeknights, 11/10c, Comedy Central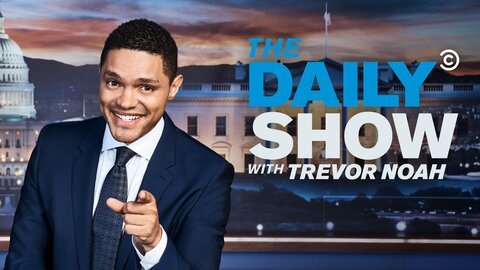 Powered by