The Lifetime 'Beaches' Remake Will Have You Crying as Much as the Original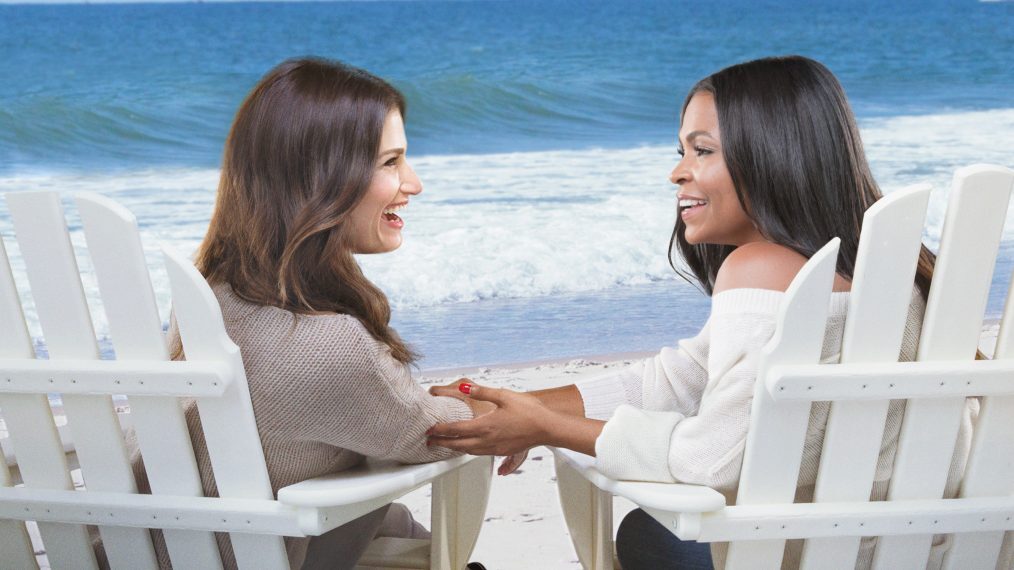 So much for one set of footprints.
Nearly 30 years after Bette Midler and Barbara Hershey broke our hearts in 1988's Beaches, the big-screen melodrama is taking a second stroll on the sand in a surprisingly faithful and, yes, tearful remake on Lifetime.
Based on Iris Rainer Dart's novel, Beaches centers on two besties from wildly different worlds—brassy entertainer C.C. Bloom and demure but (spoiler alert!) doomed lawyer Hillary Whitney—who share decades of laughs, betrayals, setbacks and several hummable tunes. The film is considered by many to be the quintessential salute to female friendship—among them, the revival's executive producer, Alison Greenspan.
"It certainly was an auspicious, daunting task, given that the movie is so beloved, but we think that we found a way to create our own version while still being true to what fans loved in the original," says the exec, who notes that it was Beaches' central and sadly uncommon theme that drew her to the project. "There are so few films or TV shows that don't feature women in competitive situations, as the sidekicks to men or casualties in a thriller," she says. "There is not a lot out there that really captures the true ups and downs, highs and lows and eternal support of a real best friendship."
RELATED: Lifetime Loads Up on Originals With Viola Davis, James Franco and Timbaland
With Vancouver, Canada, subbing for sunny California and acclaimed director Allison Anders (Grace of My Heart) at the helm, the most important order of business for producers was finding the perfect powerhouse to match Bette Midler's indelible performance as C.C. The singer has become synonymous with the film, and it's impossible to hear her Grammy-winning recording of "Wind Beneath My Wings" without thinking of C.C.'s devastation during the tragic final act. Still, Greenspan insists there was only one choice. "It was easy to land on Idina Menzel for all of her talent, for all of her grace, for all of her following. She fills the shoes beautifully but also makes C.C. her own. I think she's got an innate vulnerability and an innate likability. She's also very, very funny, and of course her voice is just beyond."
For Menzel, though, signing on wasn't that simple. "I said no a couple of times, to be honest," she says. "I don't make a habit of trying to revive things that have been done before. Bette Midler is one of my all-time idols, and I love the movie as it is." The "Let It Go" chanteuse admits that it wasn't until she sat with it for a while that she realized she should do it. "There's a whole generation of young girls who have never seen Beaches," she explains. "And how often do you get to work on a project that's fronted by two women and really celebrates female friendship?"
In true C.C. style, Menzel (who received Midler's blessing in a tweet after joining the production and has recorded her own version of "Wind" for the film) is just as frank about any potential backlash. "Oh, I know full well that there will be people that have a hard time buying into it," she says with a laugh. "They don't have to watch it!"
Fittingly, in this tale of women taking care of women, it was Menzel who suggested Nia Long for the role of Hillary, the lower-key yin to C.C.'s spotlight-stealing yang. "We had hung out before and I was a fan of her work," she says of Long, who costarred with Menzel's ex, Taye Diggs, in the Best Man films. "I thought she'd be a great choice." Even with Menzel's wind beneath her wings, Long too had misgivings about remaking what she refers to as one of her all-time favorite movies. "I was scared to death to do this because I don't believe in touching something that is, simply, perfection," the actress confesses. "I had to think about it. But the fact that Lifetime stepped up and decided 'Hey, this is the movie we want to make' made me think to myself, 'They're all strong, great women over there. They know what they're doing!'"
Menzel's and Long's shared concerns and preexisting connection translated into chemistry on tap once the cameras started rolling. "It came easy for us—we bonded very quickly," says Menzel. "People usually underestimate women, and they always assume it's going to be this competitive environment or whatever, but we're actually very supportive of one another and we were excited about what we were doing. We really relished in the depth of these characters." And the tears.
Beaches, Movie premiere, Saturday, Jan. 21, 8/7c, Lifetime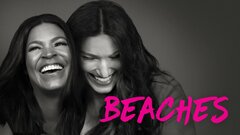 Beaches
where to stream
Powered by