Who's Most Likely to Die on 'The White Lotus' Season 2? A Ranking
[Warning: The below contains MAJOR spoilers for The White Lotus Season 2, Episode 6, "Abductions."]
The White Lotus is back and the body count is already huge as the opening moments of the Season 2 premiere episode, "Ciao," teased multiple fatalities. A far cry from Season 1's sole death of hotelier Armond (Murray Bartlett), we can't help but already begin theorizing who is among the unlucky crop of guests at the center of Season 2's mystery.
While some people who have checked into the titular resort appear to be painting a target on their backs, like Michael Imperioli's Dominic Di Grasso, others like fan-favorite Tanya McQuoid (Jennifer Coolidge) is a little more in limbo, placing them at different stages in our death predictions ranking, below. Scroll down for an overview of which characters we're most concerned about in the season so far and continue to check in each week as we update the list based on new developments.
10. Beatrice Grannò as Mia & Simona Tabasco as Lucia
These ladies make quite an impression early on as they take stock of the incoming guests at the resort. While Lucia (Simona Tabasco) is blatantly an escort, who quickly gets involved with Dominic by the premiere's end, Mia (Beatrice Grannò) was more interested in securing a spot on the White Lotus' official staff as a musical performer. It's evident from their initial introduction to the show that Mia and Lucia are going to shake up the scene in Sicily, but will they fall in with the wrong guests? Their early entanglements raise concern. And as they continue to engage with Dominic and get involved with even more guests at the hotel, concerns are still there for their well-being, but they do seem to have the upper hand in these trysts for now. Of course, playing with fire could get these ladies burned in the end. And what seems to be the introduction of a boss or pimp could put these ladies and their clients in equal danger. Perhaps the men who owe them money will be held responsible, but after Lucia was tracked down alongside the Di Grassos, more red flags have been raised.
9. Haley Lu Richardson as Portia
Having Tanya as a boss would surely drive anyone crazy, but it's clearly taking its toll on Portia is being told to stay hidden in her room while abroad. In one scene, Portia vented to a friend over the phone about how messed up the situation is with tears in her eyes at the thought of being trapped indoors after not doing anything for the past three years in her personal life. Will her mental well-being be pushed to the brink leading to potentially fatal outcomes? When she goes on a date with Albie in Episode 2, he mentions how he's attracted to "broken birds," could that hint at turmoil brewing under the surface for Portia? It appears to be a possibility, making her a candidate for this list.
And when Portia's summoned to Tanya's side as she's in crisis following Greg's (Jon Gries) departure, the assistant does as ordered and goes to the bathroom for her boss's tarot card reading. While there, Portia steals some pills. That kind of action rarely occurs without consequence, and when she begins eyeing a new guest at the resort, is she setting herself up to walk down a dangerous path? By getting into bed with "bad boy" Jack (Leo Woodall) is Portia dooming herself in exchange for some brief fun? It feels possible as he puts her in slight danger during an outing in Palermo, and lies to her about his relationship status with Tom Hollander's Quentin. That became clearer as Episode 6 played out when Jack took Portia out and proceeded to get really drunk, seemingly on purpose, forcing them to get a hotel room instead of returning to the mansion.
Jack also drunkenly mentions that Quentin is coming into money, suggesting there's some kind of scheme afoot, and we have a feeling it involves Greg.
8. F. Murray Abraham as Bert
Bert (F. Murray Abraham) may be young at heart, but this older guest at the Sicilian-based White Lotus is accident-prone, which could make for a silly death down the line. Clearly a womanizer in his day, Bert flirts throughout the episode, unaware of the way he's being perceived by others. Combining his lack of social awareness in a foreign country with his clumsiness enhanced by a more advanced stage in life, and there's a strong chance he may be one of season 2's many victims. As the season has progressed, this has proven true at least on the injury side of things as Bert hit his head on a nightstand in his room and now dons a bandage. Could there be more damage than initially apparent? His clumsy side continues to be shown off, and he's also gotten involved in the drama unfolding between his son, grandson, and escorts Mia and Lucia. At this point if anything nefarious happens, it feels like Bert will be collateral damage.
7. Jon Gries as Greg
Despite being a bright spot in Tanya's trip during Season 1, it seems like she and her now-husband Greg aren't on the best of terms. An intimate moment between the duo in the premiere ends in a fight, he's taking secret phone calls, and his anger over Tanya bringing her assistant Portia seems a little misplaced. Could their relationship reach a breaking point that leads to more than just a breakup? Considering his shady behavior and the reveal that his Season 1 illness has essentially disappeared, there appears to be a moving target on Greg's back this season. Considering the latest developments hinting at his involvement in setting Tanya up with Quentin, it feels like Greg shouldn't be counted out, just because he's been offscreen for so long.
6. Jennifer Coolidge as Tanya
It's sad to admit it, but things aren't looking entirely clear for fan-favorite Tanya who is going through a tough time on her vacation. Admittedly, she's always having a hard time, but Tanya's marriage to Greg appears to be putting her in more than a bad mood as she seems to be in potentially mortal danger. So far this season, we've been clued into the fact that Tanya has at least half a billion dollars in the bank and that Greg signed a prenup. After having her Italian Dream date, Tanya is disheartened by her husband when he says he has to leave for business.
In the final moments of Episode 2, he talks over the phone to a mystery person, claiming Tanya suspects nothing, making us wonder, is he trying to set her up? Could Greg be upset Portia (Haley Lu Richardson) is on the trip because he wanted Tanya to be alone in Italy for some unfortunate accident? While we consider Tanya's favorability with fans, it's hard to picture her among Season 2's victims, but Episode 2 proves we can't rule her out. And a tarot card reading in Episode 3 seems to confirm fears that all is not well in paradise when it comes to her marriage with Greg as a fortune teller informs Tanya that he's in love with someone else. Does that mean death or divorce?
Befriending Quentin is certainly an intriguing twist, considering he's a stranger. Could he have ulterior motives? It seems so following the sixth installment. During an excursion to Palermo with the wealthy man, he says some interesting things and Tanya catches him engaging in a tryst with Jack. It isn't clear if Jack's actually related to Quentin or not, but that's not the biggest concern here. After plying her with unlimited cocaine at a party, Quentin pushes Tanya towards a mysterious man who she appears to go to bed with. Also, a photo revealed on Quentin's dresser features none other than Tanya's husband Greg! Something's shady, and we're worried about Tanya because of it.
5. Adam DiMarco as Albie
While this individual started the season so far off this list, Albie (Adam DiMarco) shot up in the ranks the minute he got involved with Lucia. There's an unsettling feeling surrounding their entanglement, not only because she'd previously been involved with Albie's father Dominic, but also because she's playing with his emotions. Lucia helps Albie as he tries to make Portia jealous by kissing him in the hotel bar. She also tells Albie about her Hollywood dreams, laying the foundation of trust and emotional vulnerability.
The "nice guy" doesn't even know his dad had been hooking up with the escort, adding another layer of concern for his well-being as learning that fact could lead to a variety of outcomes. After a hotel rendezvous with Lucia, Albie falls back on the bed to reveal a painting behind him of a man pierced by arrows. Could that be a mere coincidence or a hint that he's doomed? Either way, it has us feeling rather worried for the young man. And as he and Lucia deepen their relationship, he becomes further ensnared by her charms, putting him deeper in harm's way should the escort's exploits at The White Lotus not turn out well. Already viewers got a taste of this when Albie, Lucia, and the other Di Grassos were followed by her boss on an excursion to their hometown.
4. Will Sharpe as Ethan
This quiet and shy techie is running relatively low-key in the show so far, but Ethan's (Will Sharpe) proximity to loose cannon Cameron (Theo James) raises the odds against his favor. It's clear from the premiere episode that Ethan's actions are often influenced by his wife Harper (Aubrey Plaza) who is fairly controlling. While she may be trying to loosen up to compete with their travel companions' lovey-dovey dynamic, could Ethan be pushed to extremes that get him into trouble?
By Episode 2, it's clear he'd rather do certain things alone than with his wife, or even friends, putting him on a precarious fringe that we've kept a close eye on. But it was his boy's night with Cameron in Episode 3 that raises major red flags as the men get involved with Lucia and Mia. Even though Ethan denies a potential hookup, his closeness to Cameron's infidelity raises bigger concerns than before. And when Harper finds the condom wrapper from Cameron in her room, she immediately begins suspecting Ethan is guilty. Harper even gives Ethan several chances to offer the information without her calling him out, but he doesn't bite after agreeing to Cameron's "bro code."
Will his allegiance to Cameron be his downfall? By Episode 5, he spills the beans to Harper, but trust has been lost somewhat. As Harper adapts to this information, Ethan becomes a little freer with the things he says like taking digs at Cameron. As tensions flare between the couple retreat we can't help but feel extra worried about Ethan's future. Not to mention, Harper doesn't entirely trust him, and Ethan begins to show paranoia as Cameron openly flirts with his wife. Could a fit of jealousy force things to take an ugly turn on the couple's retreat? And could Ethan's proximity to Cameron's lack of paying Lucia and Mia be fatal?
3. Aubrey Plaza as Harper
There have been moments throughout the season that would make us question Harper's well-being, but huge red flags were raised during a group dinner in Episode 5 where Cameron made a move on her beneath the table, caressing her leg. She didn't seem entirely put off by the gesture, making us worried that she may somehow act on the attraction. And considering Daphne's (Meghann Fahy) motto of doing what you have to in order to feel okay about life makes us wonder if Harper's potential future death could be on her hands should Daphne's husband hook up with her. When Ethan begins suspecting this possibility in Episode 6, could Harper's nonchalance towards their marriage and predicament put her in a dangerous position? It's growing more precarious as we head into the finale.
2. Theo James as Cameron
If Season 2's Cameron would be comparable to any guest from Season 1, it would be Jake Lacy's Shane, a wealthy young man who is determined to get what he wants. For lack of better terms, it's clear Cameron is this season's a**hole guest. Considering Season 1's Shane (Jake Lacy) was the accidental killer of Armond, we can't help but feel this a**hole will actually suffer consequences for his actions.
Although he hasn't done much more than be obnoxious, his move of stripping naked in front of his college roommate's wife, Harper, is more than a major red flag. While Cameron's wife Daphne discovers a body floating in the Sicilian waters at the beginning of the episode, it's unclear if she knows the identity of the individual as the clip cuts off before flashing a week back in time. During a conversation with their vacation mates, Daphne mentions an affinity for enjoying the series Dateline. Could something Dateline-worthy be on the horizon for Cameron? It can't be ruled out quite yet. And it's clear he's beginning to hone in on Harper's annoyance with him, which is sure to lead down an interesting path.
Things get even more interesting in Episode 3 when he gets involved with Lucia and Mia, behind his wife's back. Although a conversation with Harper seems to imply that Daphne's aware of his infidelity, whether it's the one occurring now or something from the past, her attitude is pretty carefree on the surface. But could something set her off? Our eyes are on her in regard to Cameron's longevity in the series. As Harper discovered his condom wrapper in her and Ethan's room and implied to Daphne that something happened with Cameron while they were away from the hotel, it seems like his days could be numbered. Especially as he's making moves on Harper while the two couples dine together and remains on the line for needing to pay Lucia for her services.
By Episode 6, Cameron's failed to pay Lucia and Mia, and he's being openly flirty with Harper. If the escorts' boss doesn't get him, then maybe Daphne or Ethan might. Either way, things aren't looking great for Cameron.
1. Michael Imperioli as Dominic
This guy is getting involved with prostitutes during his family trip abroad with dad Bert and son Albie. If there was a way to ask for potentially life-threatening trouble, this would be it, which is why Dominic makes the top of our death predictions list. It's clear there's a lot more to uncover as the season continues, but already we have a bad feeling.
Another thing to note is one of the hotel staff members telling guests about the Sicilian legend known as Teste di Moro, in which a man who becomes entwined with a beautiful local woman ends up decapitated when she discovers he's married with children. The inclusion of that information feels rather purposeful, particularly when faces and heads appear throughout the premiere, reminding viewers of the tale. Could Dominic find himself a victim like the man in the legend? It certainly seems possible.
As he gets further involved with Lucia and Mia, he's only stacking the odds against himself, and a fleeting visual in Episode 2 seems to hint at the fatal symbolism of oranges, as the fruit appears in the background of Dominic's frame while having breakfast with his family and Portia. Anyone who knows The Godfather understands that the fruit is seen as a bad omen as they often appeared moments before a tragedy. The device has been used in other media as well, but there would be something poetic about an actor known for a mafia-centered series like The Sopranos, getting a Godfather-inspired death in an Italy-set season of The White Lotus.
And as if the show wants to further that point, the action eventually took Dominic and his family to one of the filming locations of Francis Ford Coppola's masterpiece. As Dominic's entanglement with Mia and Lucia continues, his footing grows more precarious with each passing episode. And although he backed away from the women, their involvement with his son seems to have only further endangered the Di Grassos.
Who do you think is most likely to perish this season? Sound off in the comments section, below, and stay tuned as our list is updated week to week.
The White Lotus, Season 2, Sundays, 9/8c, HBO and HBO Max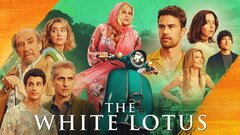 Powered by