What's Worth Watching: 'Bones', 'Fresh Off the Boat', 'New Girl', Sidney Lumet on 'American Masters' and more for Tuesday, January 3
Bones (9/8c, Fox): "I'm sure Norman Bates was nice—at least when it came to his mother," is how Agent Aubrey (John Boyd) regards the return of mousy squint-turned-psycho Zack Addy (Eric Millegan), who ended had taken Bones (Emily Deschanel) prisoner at the end of last season. The cliffhanger resolves as the venerable crime drama begins its 12th and final season, shedding new light on the damaged lab rat whose downfall irked many fans all those seasons ago. Adding to the fun: the return of Sara Rue as delightfully dithery behavioral analyst Karen Delfs, reminding us there's no show where Rue isn't welcome.
By Sidney Lumet (8/7c, PBS, check local listings at pbs.org): The great American Masters series opens its 13st season with an appreciation of the half-century career of director Sidney Lumet, who died in 2011 leaving an influential legacy of 44 films including Network, Dog Day Afternoon, 12 Angry Men, Long Day's Journey Into Night and The Verdict. Excerpts from a never-shown 2008 interview illuminate Lumet's personal history and deep-rooted social conscience.
Fresh Off the Boat (9/8c, ABC): Constance Wu's award-worthy performance as tiger mom Jessica gets a showcase as she opens up about her surprising past during a U.S. citizenship interview. With the parents otherwise engaged, the kids take the minivan out for a spin, which you know won't end well.
Inside Tuesday TV: Out-there comic Jen Kirkman presents a new Netflix stand-up special, Just Keep Livin'? (streaming starting Tuesday). … Fox's New Girl moves a half-hour earlier (8/7c), celebrating Reagan's (Megan Fox) move into the loft. … Crisis time on MTV's provocative Sweet/Vicious (10/9c), when Ophelia (Taylor Dearden) is caught on camera and the campus goes on lockdown. … truTV's Billy on the Street (10:30/9:30c) is back with an episode irresistibly titled "Do Gay People Care About John Oliver? With John Oliver!" (The answer: Yes.)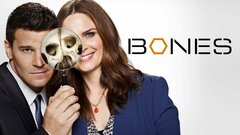 Bones
where to stream
Powered by