John Stamos on 'Big Shot' Season 2 & the 'Tsunami of Love' for Bob Saget (VIDEO)
His Westbrook Sirens girls basketball team won big last year in the first season finale of Disney+'s dramedy Big Shot, but don't expect life to be an easy layup for cantankerous coach Marvyn Korn (John Stamos) as we move into the show's second round.
When the sports dramedy tips off on October 12 (the entire season drops on that date), Korn faces new challenges. Among them: Westbrook goes coed, a move Stamos says will allow the show to "highlight the inequality between boys' and women's sports." His indignation is sure to bring him closer to his girls, but, as the actor told TV Insider recently, it was the unexpected death of Stamos's friend and Full House co-star Bob Saget earlier this year that ended up helping shape a story that he pitched this season. In the episode, Korn faces his own legacy and "the girls…have people tell him [what he means to them]."
Speaking of Saget, Stamos says of his passing "it's still so surreal to all of us. The tsunami of love that this guy received — and that's what breaks my heart too, that he didn't know how loved he was. He really didn't. No matter how much you tell them, no matter how much attention you got…."
One thing in Big Shot that has changed since Season 1 is the length of the episodes. "We decided to make the show, especially for budgetary reasons, shorter this season. That's one of the great things we learned, that an hour was a long time for this particular show," Stamos says of the switch to a 3o-minute format. "We have to build out these girls lives, and focus on them a little more. Enough with me, we've seen me already. And I think we did that too this year."
Watch the video interview above!
Big Shot, Season 2 Premiere, Wednesday, October 12, Disney+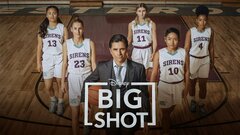 Powered by