'Dark Winds' Finale, Dr. Pol's 200th Milestone, History of the Colosseum, 'Blood & Treasure'
AMC's mystery series Dark Winds reaches a tense conclusion. The Incredible Dr. Pol celebrates its 200th episode of animal care with a two-hour retrospective. The History Channel brings Rome's Colosseum back to life in an eight-part docuseries. After three years, the action-adventure romp Blood & Treasure returns, moving from CBS to Paramount+ for its second season.
Dark Winds
SUNDAY: Mystical black magic, deadly greed and other dark impulses of the human soul have fueled this excellent adaptation of Tony Hillerman's "Leaphorn & Chee" mysteries, recently renewed for a second season. In the suspenseful Season 1 finale, Navajo Police Lieutenant Joe Leaphorn (the soulful Zahn McClarnon), former deputy/newly outed FBI agent Jim Chee (Kiowa Gordon) and officer Bernadette Manuelito (Jessica Matten) face grave danger as they confront the Buffalo Society activist-killers and a surprise accomplice in their secret cave. Though justice comes at a tragic and morally ambiguous cost, this looks like the beginning of a memorable partnership between the veteran cop and his protégé.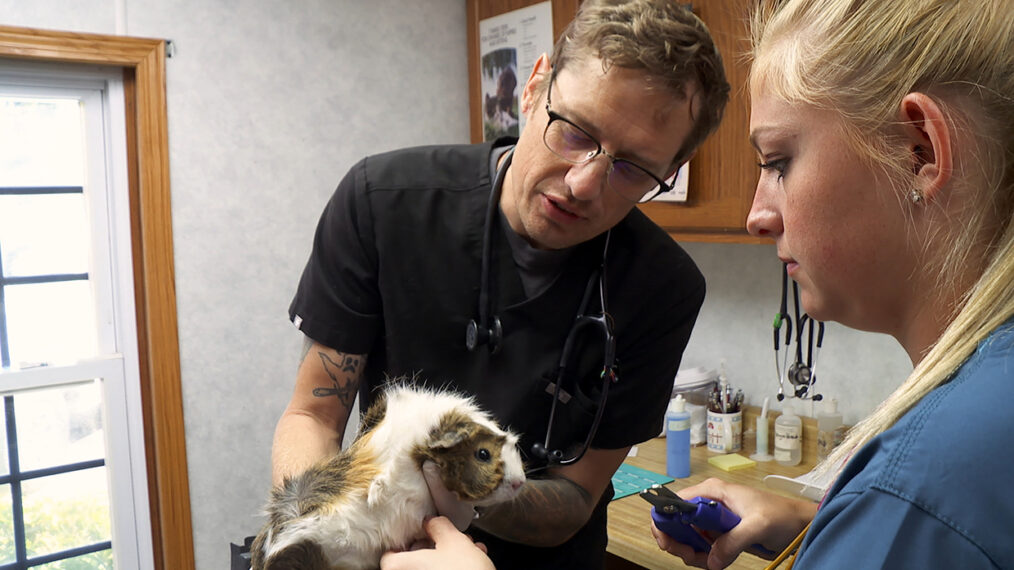 The Incredible Dr. Pol
SATURDAY: Ahead of the lovable vet's milestone 200th episode, a two-hour special retrospective (at 7/6c) relives many of the doc's most memorable animal encounters. In the new episode, Dr. Pol tends to a racehorse with a damaged hoof, with other needy critters including a bull reindeer, a guinea fowl and a cute little dog with an eye injury.
Colosseum
SUNDAY: An eight-part docuseries charts the rise and fall of the Roman Empire through the history of its most famed arena, the Colosseum, where slave-warrior gladiators battled to the death and emperors displayed their almighty power. With re-enactments and special effects bringing the Colosseum's former glory to life, each episode focuses on a singular character from history. The series opens in 80 A.D. with a match between gladiators Priscus and Verus before a crowd of 50,000 spectators.
Blood & Treasure
SUNDAY: Fans of the international caper action series, which first aired on CBS in the summer of 2019, have waited three years for a second season, and is now an increasingly common custom, the show finds a new home on the parent company's streaming platform. Matt Barr (the upcoming Walker: Independence) and Sofia Pernas return as Danny, the former FBI agent, and art thief Lexi, who team up to travel the world in pursuit of a terrorist funding his evil deeds through purloined treasure.
Evil
SUNDAY: Another CBS transplant continues its terrific third season with a regrettably relatable episode in this social media-besieged age. In "The Demon of Algorithms," a single mom turns to the team of paranormal/spiritual investigators to snoop around a viral app called TipTop—three guesses what this is parodying—when she fears its demonic agenda is terrorizing her family.
Inside Weekend TV:
Transplant (Saturday, 8/7c, NBC): In the Canadian medical drama's Season 2 finale, Bash (Hamza Haq) and mentor Dr. Bishop (John Hannah) try to save each other's careers, disrupted by a malpractice suit, while colleagues Mags (Laurence Leboeuf), Theo (Jim Watson) and June (Ayisha Issa) each make big decisions.
Planet Shark (Saturday, 8/7c, National Geographic): The channel's SharkFest continues with a three-part series enlisting scientists to explore why sharks, with 500-plus species, continue to thrive around the globe. Another special, Jaws vs. Boats (Sunday, 8/7c), investigates the rise of sharks attacking boats as captured on video.
Nikki Glaser: Good Clean Filth (Saturday, 10/9c, HBO): The comedian and host of FBoy Island shatters taboos in her first hourlong HBO stand-up special, taped at Denver's Paramount Theater.
48 Hours (Saturday, 10/9c, CBS): The true-crime newsmagazine repeats its episode about "The Murdaugh Mysteries" in the wake of disgraced South Carolina attorney Alex Murdaugh's indictment this week in the murders of his wife and son.
MLB Draft (Sunday, 7 pm/ET, ESPN): Major League Baseball analysts are hand as the first round of the baseball draft begins from Los Angeles.
Steve Bannon: Divided We Fall (Sunday, 8/7c, CNN): Investigative Correspondent Drew Griffin leads a CNN Special Report profiling the polarizing former presidential advisor and political disruptor whose role leading up to the Jan. 6 attack on the U.S. Capitol has come under scrutiny by the House Select Committee.
Wicked Tuna: Outer Banks Showdown (Sunday, 9/8c, National Geographic): Captains from Gloucester, Massachusetts, and the Outer Banks of North Carolina battle for bluefin in a new season of competition.
History's Crazy Rich Ancients (Sunday, 10/9c, History Channel): It's no secret the rich are different, and this half-hour series digs through the gilt-edged archives to reveal the profligate ways of tycoons and wealthy rulers through history.