The Flash and Arrow Face Off In an Epic Superhero Crossover
If you hadn't noticed, comic books are no laughing matter on TV these days. AMC's The Walking Dead is TV's top-rated show; Fox's Batman prequel, Gotham, is a bona fide freshman hit; Marvel's Agents of S.H.I.E.L.D. is a solid performer for ABC; and CBS is eyeing a Supergirl series to call its own. When it comes to heat, well-drawn heroes would seem to have it.
And the only thing hotter than a do-gooder is a pair of them — in leather, no less — which is why the two-night crossover event on The Flash and Arrow (airing Dec. 2 and 3) has everyone involved with the shows so fired up. "There is something really special about assembling two [casts] to work together," says Grant Gustin, star of The Flash.
That excitement isn't reserved solely for The CW's comics-derived shows. "We feel blessed to be part of a renaissance for these kinds of characters," says Greg Berlanti, an executive producer of both Arrow and The Flash. "When you watch Constantine and Gotham, it makes you feel part of a larger world. People are looking to find competition among the shows, but we're all so proud to be a part of this."
After spinning The Flash off from a two-episode Arrow arc that introduced Glee veteran Gustin as nerdy forensic scientist Barry Allen last season, Marc Guggenheim, Berlanti, and fellow executive producer Andrew Kreisberg (now The Flash's showrunner) almost immediately began plotting this convergence. While other shows have waited to make sure their spawn had legs before merging the two (see The Vampire Diaries and The Originals), the trio had no qualms about bringing Stephen Amell's emerald archer Oliver Queen and Gustin's lightning-fast Allen back together so soon.
"Crossovers are part of their DNA," explains Berlanti, citing the frequent back-and-forths among the shows' DC Comics source materials. Besides, it's not as though the characters don't already share connective tissue: Scientists Caitlin Snow (Danielle Panabaker) and Cisco Ramon (Carlos Valdes), now on The Flash, visited Starling City last season to work on an antidote to bad-guy Slade Wilson's supersoldier serum; Queen appeared in the Flash pilot; and Arrow's tech expert, Felicity (Emily Bett Rickards), checked in with the S.T.A.R. Labs gang on The Flash in October. "We felt that there would be an expectation to keep the Arrow and Flash worlds colliding sooner rather than later," Berlanti continues, "and if we waited until the back half of the season just to prove a point that the shows could survive without each other, then we would be depriving the audience of something we all wanted to see."
Not that they needed to worry about the new show being a Flash in the pan. A hefty 6.8 million viewers tuned in to the first episode (live and on DVR within the first week) to see Gustin race around in red leather, making it the most-watched episode in The CW's history. No, the biggest challenge to this TV team-up was the logistics of an undertaking more daunting than anything Arrow's villainous Malcolm Merlyn (John Barrowman) could hatch.
"We had to do a lot to make the schedules work," Guggenheim says, adding that there was "no financially responsible" way to do this crossover. Hours went long, budgets were blown, and the actors often had to film scenes for both shows in one day (thankfully, their soundstages share the same Vancouver lot).
To come up with scripts that worked together as a cohesive story and as closed-ended arcs that could stand alone for each series, the producers implemented a writing-staff exchange program: Arrow's Ben Sokolowski and The Flash's Brooke Eikmeier cowrote the Flash teleplay, while Guggenheim worked with Flash writer Grainne Godfree on the Arrow installment. "I give a huge amount of credit to both casts and crews," Guggenheim says, throwing in extra praise for the first-year team working on The Flash. "It's one thing for a show in its third season to attempt something like this, because everything is clicking and moving on all cylinders."
According to Amell, "There is no way to sugarcoat it: We had to jam another episode into the 23-episode schedule for each of our shows." Joined by Gustin in his spacious, two-level trailer complete with overstuffed leather couches, the Arrow star brews coffee for his guests while a slideshow of his 1-year-old daughter, Mavi, runs on a big-screen TV. Despite the superheroic efforts asked of both actors over the last two weeks, they are chatty, upbeat, and clearly satisfied with the results. "The schedule was not ideal," Amell adds. "But the episodes are going to be really good, and the fans are gonna love it."
Teased at the end of Arrow's Nov. 19 episode, the crossover revs up on The Flash on Dec. 2 when Oliver and Co. hit the road for Barry's Central City in search of maniacal George Harkness, aka Captain Boomerang (Spartacus alum Nick Tarabay), who is using the deadly weapons for which he's named to exact what appears to be revenge against the government agency A.R.G.U.S. Once there, they reluctantly help Team Flash battle its own nemesis, a metahuman named Rainbow Raider (Paul Anthony), who projects emotions onto his victims, often with violent results.
Titled "Flash vs. Arrow," the first hour finds Oliver and Barry not just clashing over their individual crime-fighting techniques, but also each other. "There is a legitimate fight sequence between Arrow and Flash," says Guggenheim, who declines to spoil the reason for the pair's beef. "In fact, in both episodes, you see that, even though they are on good terms, there is still conflict. They are two very different guys."
Likewise, the two shows have vastly different tones, which gave the Arrow cast a chance to leave Starling City's grim vibe behind for a bit. "The Flash universe is lighter. It is a completely different energy," says David Ramsey, who, as Oliver's usually stern right-hand man, John "Digg" Diggle, scores some of the crossover's funniest moments after meeting Central City's speediest citizen. "The whole metahuman thing freaks him out," Ramsey says. "He asks if Barry does everything fast, like does he go to the bathroom fast? That actually comes out of Diggle's mouth!"
The short-term blending of these families also allowed the producers to bring a little of Arrow's moodiness to the more colorful Flash. "There is a revelation regarding Oliver that is one of the biggest bombs we have ever dropped [on the shows]," Kreisberg says.
The following night, on Arrow's "The Brave and the Bold" (the title is an homage to DC's classic team-up comic book series), the darkness really settles in when Barry, Caitlin, and Cisco visit Oliver's hometown. "We say goodbye at the end of the Flash episode, but Felicity asks Caitlin for a favor," says Panabaker. That involves running tests on a DNA sample linked to the arrow that killed Oliver's fellow crime fighter Canary/Sara Lance (Caity Lotz) in Arrow's season premiere — but Valdes confesses that Cisco and Caitlin also have an ulterior motive for the road trip. "She tries to mask it like we have a few days off from S.T.A.R. Labs," the actor says with a laugh. "But Cisco simply goes, 'We want to see the Arrow cave!' He's geeking out."
Not for long, however. Once the teams reunite and resume the search for Captain Boomerang, "something significant happens in the middle of the episode to someone we care about," Guggenheim teases. "And the Flash characters are like, 'Whoa, this is very serious.' It reminds them that, even though they have this element of fun and games — they give their villains nicknames — the stakes are very real and very serious."
On the heels of that ominous development, "you get to see all of the heroes working together," says Colton Haynes, who plays Arrow's street kid-turned-vigilante Roy Harper. Staging their pre-mission powwow at the Arrow's lair makes for a crowded but happy set. Rickards and Panabaker work on a scripted joke-laden exchange about Oliver's workout schedule as Valdes and Gustin each film bits on the famed salmon-ladder apparatus. Air blasters scatter loose papers to punctuate the effects of Barry's windy entrances and exits, while the convivial chatter among the assembled cast members during their breaks sounds like a group of old friends, not folks who have worked together for only a couple of weeks. That's a good thing, since the discovery of a vital piece of evidence in Sara's death is set to impact everyone on the canvas and could inform any future joint adventures. "Both shows are changed as a result of the crossover," Guggenheim says. "There will be long-lasting repercussions."
Like maybe a newfound bromance between our often combative heroes? "When we wrap up this crossover, Oliver and Barry are on the best terms they've ever been on," Gustin says, while Amell all but guarantees that our heroes will hang out again. "By the end," a smiling Amell says, "I've done the equivalent of buying him a toothbrush and leaving it in the bathroom."
What a straight shooter.
This story was originally published December 2, 2014.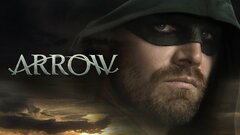 Arrow
where to stream
Powered by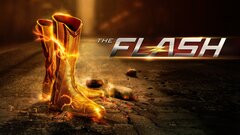 Powered by