Emmanuelle Chriqui Previews a Pivotal Reveal for 'Superman & Lois'…and Lana (VIDEO)
After literally leaving things up in the air, Superman & Lois returns Tuesday, May 31 to deal with the fallout from Clark (Tyler Hoechlin) revealing his secret identity to Lana (Emmanuelle Chriqui). And she is super conflicted.
"Tyler and I felt an enormous responsibility to sell this [moment] for the fans," admits the actress, who is over-the-moon with how the episode, "Lies That Bind," handles the emotional weight of both Clark's confession and Lana's reaction. "There is utter shock, then betrayal…and then everything is out," she continues. Almost immediately, Lana asks what so many Superman fans have thought over the decades — "How has nobody put this together before?!" — as the show finally explores the former high-school sweethearts' backstory with flashbacks to their teen years.
"I loved how they wrote it," she says of the montage down memory lane. "We knew it had to be a special moment because this could become iconic for the fans."
Another sequence sure to stick with viewers is the unloading Lana does on Lois (Bitsie Tulloch). As you see in the exclusive clip above, Lana can't stop thinking about the many times she's been misled. Reeling from Clark's admission and feeling every level of deceived, the newly elected Smallville mayor even cuts short a meeting with yet another untrustworthy person in her life — faithless husband Kyle (Erik Valdez) — for a visit to the Kent farm, where she goes in on Lois for building their so-called friendship on a pile of lies. It is easily one of the strongest scenes of an already fantastic year that's wisely expanded Chriqui's presence on the canvas. "This season was a real thrill ride for me," she agrees.
Of course, that ride is far from over. There are still a handful of episodes left, the looming threat of Bizarro World Lana-Rho finding her Earthly version and, well, a season finale that's is nothing short of must-see. Trust us. Unlike some folks around Smallville, we wouldn't lie to you.
Superman & Lois, Tuesdays, 8/7c, The CW.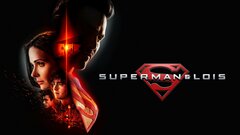 Powered by