'Bachelorette' Michelle Young Reveals She's Stepping Away From Teaching
Michelle Young, who was known for being a teacher when she appeared on The Bachelor and then The Bachelorette, has announced that she's stepping away from teaching on Bachelor Happy Hour, the official Bachelor Nation podcast.
"I was sitting down with my coworker, and we were just talking about this school year and how long we've been in survival mode, and my coworker just asked me, 'Well, Michelle, how long have you been in survival mode?'" Young explains. "As she asked that, it kind of caught me off guard to actually stop and think how long I've been in this position, and my response was two years. I've been in this survival mode two years where I have just been flying by the seat of my pants, but really not necessarily living or just surviving with the pandemic, with going through these crazy but awesome changes, with getting a fiancé, there's just so much going on."
After thinking about her position, "it really just highlighted the fact that there's so much going on with our education system and I really feel that as I move into this next year, I have decided to step out of the classroom," she continued, getting emotional. "This doesn't mean that I'm never going to step back in the classroom. This doesn't necessarily mean that I'm not going to continue working towards a masters in administration and potentially get back into that direct line of education, but it's me stepping away for a year to truly capitalize and push forward and put all my energy and efforts into my passion in a different way and really, truly try to push for that change because staying in the classroom and seeing and feeling that weight just shows me that something has to be done."
Michelle first appeared in The Bachelor Season 25, with Matt James, before moving on to her own season of The Bachelorette, its 18th. Then, she met and, in the finale, got engaged to Nayte, and they're still together.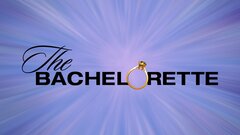 Powered by