'Accused': Whitney Cummings to Guest Star in Anthology Drama
You may know Whitney Cummings for her comedy, but she's taking on a dramatic role for Fox's upcoming anthology.
Cummings is set to guest star on Accused, based on the BBC's BAFTA-winning crime anthology. She'll play Brenda, who, according to the character description is "an acerbic female stand-up comic who is forced to confront public opinion and courtroom biases after she reports being sexually assaulted."
Developed by Howard Gordon and executive-produced by Gordon, Alex Gansa, and David Shore, the series opens in a courtroom on the accused, with viewers knowing nothing about their crime or how they ended up on trial. It is told from the defendant's point of view through flashback and holds a mirror up to the current times with evocative and emotional stories. With the series, viewers discover how an ordinary person gets caught up in an extraordinary situation, ultimately revealing how one wrong turn leads to another, until it's too late to turn back.
Each episode of the series features a different cast. It was previously announced that Michael Chiklis will star in the premiere, as a successful brain surgeon, with a seemingly perfect family, who discovers his teenage son may be planning a violent attack at school. We also know that Oscar winner Marlee Matlin will make her directorial debut with an episode that features a deaf woman.
Cummings' TV credits include Tacoma FD, Crashing, Undateable, and Whitney (which she created). She also co-created and co-wrote 2 Broke Girls.
Accused is co-produced by Sony Pictures Television and FOX Entertainment. Joining Gordon, Gansa, and Shore as executive producers are Glenn Geller, Erin Gunn, All3Media America's Jacob Cohen-Holmes, and Jimmy McGovern, Sita Williams, Roxy Spencer and Louise Pedersen for All3Media International. Frank Siracusa and John Weber also serve as executive producers. The original series was created by McGovern and debuted in 2010 on BBC One.
Accused, Series Premiere, TBA, Fox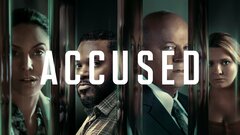 Powered by