'Chicago Med': Jessy Schram Returning as Series Regular
Dr. Hannah Asher is making a comeback as Jessy Schram has returned to NBC's Chicago Med as a series regular.
As seen at the end of Wednesday night's episode, "May Your Choices Reflect Hope, Not Fear," Hannah made her surprise reappearance as she took a new job at Gaffney Chicago Medical Center's new emergency OBGYN service. Despite Hannah's troubled past, Dr. Archer (Steven Weber) decided to give her a second chance.
Schram first appeared in the 12th episode of season five and was last seen in the Season 6 premiere. Her character battled with heroin addiction, which she hid from her colleagues. She was eventually arrested and placed into rehab. As of Season 7, Hannah is now two years sober and looking for a fresh start.
Her character also had a romantic relationship with Dr. Will Halstead (Nick Gehlfuss) during her previous stint on the show. But things fell apart due to Hannah's drug addiction. Will their romance rekindle now that Hannah is clean?
Schram has most recently been starring in several features on the Hallmark Channel, Time for Them to Come Home for Christmas, A Nashville Christmas Carol, and Amazing Winter Romance. Her television credits include notable roles as Hannah Griffith in Veronica Mars, Rachel Seybolt in Life, Karen Nadler in Falling Skies, Bonnie Whiteside in Mad Men, and Cinderella/Ashley Boyd in Once Upon a Time.
Hannah isn't the only Chicago Med character to come back this season. Back in January, Brian Tee's Dr. Ethan Choi made his return to the Gaffney Chicago Medical Center. Choi was absent while recovering from a gun-shot wound, while Tee was on hiatus to film the Prime Video limited drama The Expats.
Chicago Med, Wednesdays, 8/7c, NBC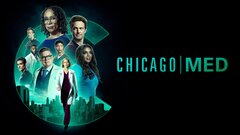 Powered by