'The Bubble' Trailer Teases Chaos Behind the Scenes of Netflix Movie Within a Movie (VIDEO)
Ever wondered what it was like to work on a Covid-safety-compliant set? Netflix's upcoming comedy The Bubble from director, writer, and producer Judd Apatow is examining the answer to that question.
After previously teasing the film Cliff Beasts 6: Battle for Everest: Memories of a Requim, Netflix is coming clean about their cheesy-looking dinosaur-laden flick. Cliff Beasts is the franchise film at the center of The Bubble, a movie following a cast and crew as they film the movie in a Covid-safe bubble.
So, the sixth installment of the "23rd largest Dino franchise ever" might not be super real, but The Bubble certainly is and it arrives April 1 on Netflix. As a group of actors and actresses are stuck inside of a pandemic bubble at a hotel, they'll work together to crate the sequel to an action franchise film that revolves around flying dinosaurs.
The movie within the movie is about a team reuniting after five years to battle humankind's greatest threat, a dinosaur species known as Cliff Beasts. The intended battle also happens to be set on Mount Everest, as is evidenced by the faux film's title, above.
See Also
Plus, 'The Gray Man' with Chris Evans, Ryan Gosling & Regé-Jean Page, along with many other titles.
Helping bring the action to life is Apatow's producing partner in this project, Pam Brady along with a stellar cast that includes the director's real-life wife and daughter, Iris Apatow and Leslie Mann. Others featured in the flick are Karen Gillan, Fred Armisen, Maria Bakalova, David Duchovny, Keegan-Michael Key, Pedro Pascal, Peter Serafinowicz, Vir Das, Rob Delaney, Galen Hopper, Samson Kayo, Guz Khan, Nick Kocher, Ross Lee, Harry Trevaldwyn, and Danielle Vitalis.
Catch the hilarious teaser, below, and don't miss The Bubble when it debuts on Netflix this April.
The Bubble, Movie Premiere, Friday, April 1, Netflix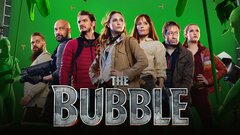 Powered by