'A Million Little Things' EPs on Maggie & Gary as Friends, Katherine's Love Life & More
[Warning: The below contains MAJOR spoilers for A Million Little Things Season 4, Episode 9 "Any Way the Wind Blows."]
A Million Little Things returns, and the relationships for the friend group are as complicated as ever.
Take, for instance, Maggie (Allison Miller), who's joined by her ex, Gary (James Roday Rodriguez), on a road trip to see her stalker. After deciding not to approach her and instead to go live on her show with a message so it doesn't become about her, Maggie's boyfriend Cam (Ryan Hansen) shows up, having faked an injury to leave his hockey game early. So, when Maggie thanks "someone I leaned on today, someone who went to great lengths to be there for me, someone I love," to whom is she speaking?
Meanwhile, Katherine (Grace Park), post-divorce, is figuring things out about herself and tracks down her childhood best friend Greta (Cameron Esposito) to apologize for her reaction when she asked her out. The two hook up in the backroom of Greta's tattoo parlor. Plus, Regina (Christina Moses) calls in Eddie (David Giuntoli) to help Rome (Romany Malco), who's dealing with his depression being back, though as he notes, it's different this time.
Executive producers DJ Nash and Terrence Coli (who wrote the episode with Elizabeth Laime) break down the ABC drama's return and tease what's ahead.
Maggie's closing for her show — she smiles over at Cam, but Gary listening could think she was talking about him, or does he know Cam's there? Who did she mean?
Terrence Coli: It's a tricky question to answer because I think at the end of the episode, Maggie's basically thanking someone who she loves very much who was there for her today, and both of those guys love her very much in their own way and were there for her today. So it's such a good question 'cause it's exactly where we wanted to leave the audience feeling: Who's it gonna be? Who's it gonna be?
Where would you say Gary and Maggie are in terms of their feelings for one another?
DJ Nash: They have been through so much together. When we first met them, they were at a breast cancer support group. Maggie met probably the only man in her life who could possibly understand what she's going through. There was this immediate connection and a relationship that was sort of built on the fact that they both were dealing with cancer and after Maggie was free of her cancer, they struggled with what their life would be after cancer. That was in fact the whole basis of their breakup. I think they finally found a way to be friends and for Gary to be supportive of Cam. Maggie certainly was supportive of Darcy [Floriana Lima]. They're even in the car in this episode and Maggie says to Cam, "I love you." I think the question is that friendship — how do they continue in this next chapter of their life, knowing how serious Maggie seems to be getting with the only person in Maggie's life who Gary has a poster of on his wall?
Can they just be friends? What is coming up for them?
Nash: That's what we want you to see. In 10, there's a big birthday party for Maggie's 30th, a birthday that is so important to her, and Cam pulls out all the stops and this guy is absolutely perfect on paper and we see whether he's perfect for her in all ways.
I feel like I'd like Greta, just because Katherine's smiling, but I also like Greta as a person. So what's coming up for them? Are we talking a relationship? Figuring things out?
Nash: Greta is a friend of hers from when she was a teenager. And it sounds like Greta had a crush on Katherine and represents in some ways the life Katherine could have had. The question is, is that the life Katherine will have? As she comes in back in touch with Greta, certainly there's making amends for mistakes she may have made in the past, but there's also this beautiful journey that these two friends take together in Katherine discovering her true potential, which, as you point out, is happiness.
Coli: Because they have that history together, in the same way as Gary and Maggie, I think Greta can reference things that Katherine went through in a much earlier phase in her life when she was just becoming the person that maybe she thought she was always gonna be. And in a really cool way, your best friends who've known you forever can sort of remind you of maybe the best version of yourself.
Nash: Cameron Esposito is just incredible. It was so much fun to give her jokes and just see her crush them. She's incredible, really, really amazing. I think her journey and Greta's journey aligns so beautifully, and so there's this authenticity that she's bringing to the role. In addition to some great humor, that's just amazing to see.
This episode raises a good point: When does Katherine tell Eddie and Theo about what's going on in her love life?
Nash: Her plan for what she would do with that is altered in a very A Million Little Things way, and we're excited for you to see that. That happens in just a couple episodes where, similar to how people probably found out about Delilah and Eddie in a way that could have been more constructive, similar things happen here. And similar to the way we did that with the previous stories, the adults and the kids find out potentially at different times, which leads to further complications. It's really interesting to see this friend group discover something so important about their friend that they didn't know. Our whole series is built on that, if you think about how many secrets this friend group was keeping just in the pilot and how important it is to share with your friends and to trust them that they're gonna love you unconditionally.
Especially when you think about where Katherine is now. She is part of the group, which we didn't see at the beginning of the series.
Nash: For sure, yeah. I was just up in Vancouver, shooting an episode that deals exactly with that, and you just see how far Katherine's come in trusting and being a member of this friend group.
Let me just breathe a sigh of relief that Rome and Regina seem as solid as ever. She called Eddie to help Rome in this episode, but what are we going to see from the couple when it comes to Rome's depression and whatever else is coming their way?
Coli: We're gonna see is a couple who are always there for each other in all the good times and all the bad. The key in this moment is that Regina has to learn how to not lose herself while she's looking out for the most important person in her life. She has to realize that it's just as important to take care of herself. That's the journey we're exploring with the two of them.
Nash: Self-care and self-compassion is a really big part of the second half of our season and seeing how that plays out. To that as well, I'm honored to continue telling the story of Rome's depression, because I think you can be aware of your depression and believe you have a handle on it and you have further episodes that happen when things aren't quite right. I'm glad that we're hopefully portraying this next chapter in Rome's depression with the same authenticity we've tried to tell it in the past.
Will Delilah be visiting before the season's over?
Nash: I don't think we want to say. It would be fun if she did though, right?
Are Eddie and Anna [Erin Karpluk] now on the right track?
Nash: There are many things that are gonna come up in the rest of the season that are gonna challenge it. We are going to see whether Eddie has learned from his past mistakes and whether he can in fact finally be the partner in a relationship that he ought to be and that he wants to be.
She hasn't really been introduced to the friend group. That's a whole other layer too, because Anna has to find out everything that's going on with the women in Eddie's life.
Nash: And she doesn't know about out Gary's involvement in her past. We're getting a chance to take a character that we thought was just sort of almost an extra in a scene when we first met her and really examine the fallout of what Peter [Andrew Leeds] did and how that affects not just his direct victims, but also all the people who pay the price for someone being a monster.
We just shot an episode where Erin who plays Anna is so unbelievably funny. Meeting this friend group, just a wonderful group of friends, but they're close and it can be intimidating and you may not make all the right moves when you first meet them. There's some really fun and funny that happens with that.
Is Andrew going to return?
Nash: Wouldn't it be fun if he came back?
What else can you tease that's coming up?
Nash: We have a couple really great guest stars coming up. Some parents come back this season. And I think we are in line to have the biggest surprise season ending finale yet.
A Million Little Things, Wednesdays, 10/9c, ABC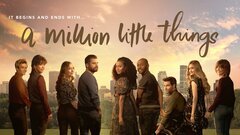 Powered by