'Nightcap's Cherie Corinne Rice on Playing a Celebrity Publicist, '30 Rock' Comparisons and More
Cue the lights and the backstage insanity on Pop's latest comedy offering, Nightcap.
Delving into the rivalries and wild moments that take place behind the scenes on a late night talk show called Nightcap With Jimmy, the series stars Ali Wentworth as Staci, the show's talent booker who faces near-disasters, difficult A-listers and a hard-to-handle staff, including celebrity publicist Malik (Cherie Corinne Rice). Not only has it been renewed for a 10-episode Season 2 already, but Season 1 features celebrity guests like Sarah Jessica Parker, Paul Rudd, Kelly Ripa, Mark Consuelos, Debra Messing, Whoopi Goldberg, Michael J. Fox, Andy Cohen, Mariska Hargitay and more.
We spoke to Rice about the hilarious new undertaking, her favorite guest stars and being compared to 30 Rock.
Tell us about your character, Malik.
She is a very high-powered publicist and she represents all of the big-name celebrities that come on the show like Kelly Ripa and Mark Consuelos and Gwyneth Paltrow. Malik is one of those characters where she is totally mean to anybody around her that is in any way getting in her way, but she is a total doll to the celebrities that she represents. She's described as being a bitch, but I think she's just really good at her job and doesn't take any nonsense from anybody.
RELATED: Chris Gethard on Why He'd Be Kelly Ripa's Best Co-Host
What's the craziest thing about getting to be in this wild, late-night scenario?
Being able to interact intimately with celebrities who in some cases, I've never even met before, but on set I'm their best friend. It's a cool dynamic because instantly they have to be warm to me and that's a cool thing in life. In one of the episodes I represent Wendy Williams and she's kind of my idol. I watch every episode every day, if I miss one I catch up at night. When I found out I was going to get to be her publicist [on the show] inside I was kind of losing my mind, but I had to tell myself to be cool because I didn't want her to know that I was "fanning out," as she would say. Like, how is this my life?
Check out an exclusive clip from the series premiere featuring celebrity couple Kelly Ripa and Mark Consuelos:
Would you say she was the celebrity guest you were most excited about this season?
Well, Wendy I was the most nervous about, but I would say I was most excited about meeting Whoopi Goldberg. I think it's going to be one of the funniest episodes. It's about racism. It doesn't sound funny, but it totally is. On the episode with her Malik's not her publicist. She's trying to get to be her publicist, so it's a totally different relationship where [Whoopi's] the alpha and that's not a dynamic that [Malik] is used to. But then on set, Whoopi ended up being like, my mom. We were chatting about what kind of hot dogs we like, and we have this one hot dog stand in Berkeley that we both love and we just had the most ridiculous, fun conversation ever.
A lot of people are drawing comparisons to 30 Rock, how do you think it compares?
I think it's as good as 30 Rock. It's its own style of comedy in the way that 30 Rock was. It has it's own tone and own way of being in the world. The thing that makes it really different from 30 Rock is definitely the celebrity aspect. They really play a key role in how we function. Everything in this first season kind of revolves around us torturing them and the fact that they're playing themselves. But there is a little bit of crossover. It's New York City and it's got that late-night feel, but it definitely doesn't have the variety show feel. There's a host that everybody has to pander to, but who you never meet, but that's another element that makes it very different. We've got our Jimmy. Not Jimmy Fallon, not Jimmy Kimmel, but the third Jimmy.
Why don't we ever get to see Nightcap's Jimmy?
I think it's one of those things where, if you see him, he'll never live up to what we can create without him. So we can create this monolith and he can be as horrible and detestable as we want him to be because we never have to put an actor in that position to live up to that. It becomes the monster in the closet. He stays scary as long as you never turn the lights on.
RELATED: Amazon's The Stinky & Dirty Show Boasts the Voices of Whoopi Goldberg, Jane Lynch and Andy Richter (VIDEO)
How does Malik interact with the other staff?
I think the best interactions are with Staci the talent booker because Malik comes in and thinks that she's Staci's boss, and Staci is everybody else's boss, so she pulls this trump card like, 'No, I get to tell you what to do because I've got the celebrities that you want and if you want them you have to go through me.' She's always hanging things over Staci's head, pushing her to be better than she thinks that she is. Malik is very pro-female, 'You can do anything you want,' and Staci's a little bit more neurotic and has to constantly be trying to please everyone around her, except for her immediate staff. The great thing about it is that Ali's my boss, so there's this reversal on set where Malik will be yelling at Staci and then we cut and Ali gives me a note.
And as far as the rest of the staff, Malik doesn't treat them like people. They don't really exist to her. When she sees them, it's as if she's never seen them before. There's just a total disregard for them as the minions that they are.
Why should people watch Nightcap?
People can just have a good time and laugh at celebrities they feel they know already, doing things they've never seen them do. Like, what could these people be like in an alternate universe? It's the kind of carefree thing that people need in this moment.
Nightcap, Series premiere, Wednesday Nov. 16, 8/7c, Pop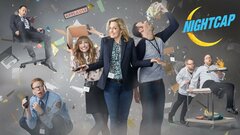 Powered by