Why Did Michael Leave '9-1-1'? Rockmond Dunbar Exits Over Vaccine Mandate
[Warning: The below contains MAJOR spoilers for 9-1-1 Season 5 Episode 8 "Defend in Place."]
The latest 9-1-1 episode was bookended with Michael Grant (Rockmond Dunbar) making decisions about his future, including one that takes him away from Los Angeles. And it turns out that was his farewell.
Dunbar's exit is due to the COVID protocols for Disney TV Studios' 20th Television productions, according to Deadline. All actors must be vaccinated, and he tried to be exempted for both medical and religious reasons. Disney reportedly rejected those requests.
"I applied for religious and medical accommodations pursuant to the law and unfortunately was denied by my employer," Dunbar said in a statement to Deadline. "My sincerely held beliefs and private medical history are very intimate and personal aspects of my life that I do not publicly discuss and have no desire to start now. I've been an actor in this business for 30 years, but my greatest roles are as a husband and father to our 4 small children. As a man that walks in faith, I look forward to what the future holds. I have enjoyed the last 5 seasons with this wonderful cast and crew and will cherish the time I've been blessed to spend with this series and wish everyone involved nothing but the best."
According to the report, the door was left open for his character to return in case the situation changes going forward. So how was Michael written out (at least for now)? After a massive hurricane hit Haiti, Michael's boyfriend, Dr. David Hale (La Monde Byrd), revealed he was going there to help with relief efforts. He was leaving soon, after clearing it with the hospital and taking care of surgeries already on his schedule. He'll be gone for a month or two, maybe longer. "If you want to be mad at someone, blame my boyfriend," David explained. After all, Michael introduced him to people "who never hesitate to rush into an emergency. I think some of that rubbed off."
And so Michael planned to propose before David's trip. "I've been thinking about being without him for the next few months, and I realized that I don't want to be without him ever. I want to be with him for the rest of my life, and I don't want him to leave without knowing that," he told the family — his kids May (Corinne Massiah) and Harry (Marcanthonee Jon Reis), his ex-wife Athena (Angela Bassett), and her husband Bobby (Peter Krause). He had their support, including with planning the proposal (ring? watch? tie?), but he arrived at the hospital in time to see the explosion that rocked the building.
David refused to leave his patient mid-surgery. He promised his wife, he told Bobby. Well, "I promised your husband," the firefighter said. "Michael's not my husband," David argued, so Bobby essentially proposed to the hopefully future husband of his wife's ex-husband for him. "Well, he wants to be. He's standing outside this hospital right now with a ring in his pocket — maybe a watch, I'm not sure — waiting to propose."
The captain then issued a "defend in place" order to give David the time he needed to finish the operation, and as soon as the doctor reunited with Michael outside, he said yes!
Such an emotional episode! Thanks for watching #911onFOX. 🚨 pic.twitter.com/I0bZQfpCEx

— 9-1-1 on FOX (@911onFOX) November 16, 2021
However, Michael had another announcement for the family: "As you know, David is going to use his incredible gifts to help those in need in Haiti. And I've decided to go with him. I can't save lives, but I can help rebuild one." He already talked to Harry, and he got May's approval as well.
"I learned from watching you," he told his daughter, then turned to the others. "All of you, really. With my brain tumor and then the pandemic and then my job, at times I really felt a little lost. But last night, I watched people come together and same someone that they didn't even know, more than one, and I said to myself, I can do that, too. … Not in an actual fire, because that's terrifying and you people are crazy."
While Athena was happy for him and David, "I am going to miss you," she said, but "we'll always be family." And with a family hug and a montage, 9-1-1 has said goodbye to Michael. (Dunbar has retweeted posts from fans expressing how much they'll miss him and his character on the Fox first responder drama.)
There is a built-in way for him (and David!) to return. (Come on, they have to have their wedding in Los Angeles, with the family, right?) David had originally said his trip was a month or two, maybe longer. That "longer" could easily stretch into however long it needs to. We'll have to wait and see if we see either Michael or David again or if we just hear about their lives in Haiti (or even perhaps an off-screen return to Los Angeles) from the rest of the family.
9-1-1, Mondays, 8/7c, Fox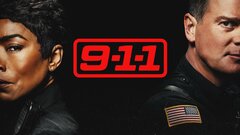 9-1-1
where to stream
Powered by