'Let's Make a Deal': The Art of Making a Zonk (PHOTOS)
You gotta play to win, but on Let's Make a Deal, you can also get Zonked for your efforts! "I feel bad when somebody gets Zonked," admits host Wayne Brady of the goofy "prizes" foisted upon the game show's often-costumed contestants. "Because depending on what the deal is, like when it's a choice between keeping what they have and a mystery prize, they can't get another chance to win. That's the consequence of the game." On the November 7 episode, contestants face such a dilemma and could very well end up swapping a sure thing (including a home sauna and a cruise) for a pair of custom-made "jet" skis that were created by yours truly—and some very twisted technicians.
RELATED: Drew Carey on Why He Loves Hosting The Price Is Right
"No one likes us, because they're jealous of the fun we have," says Timothy "Jersey" Feimster, the mastermind behind LMAD's oddities, like the nacho-cheese hot tub, hamburger shoes and the Carcade, a mobile video game unit. As head of the Zonk Department (yes, that's an official title), Feimster has seen his team's efforts go from groaners to coveted consolation prizes. "Nobody wanted them before," he says. "Now everyone wants to keep their Zonks!" (The losing players take home $100.) Here's how our contribution to Zonk mania came to life:
After pitching my idea for the punny prize to Feimster, it was off to Los Angeles for a day in the crew's construction studio-slash-clubhouse. Packed with every tool and high-tech toy you can imagine—except air-conditioning—the Zonk workshop is the hottest spot on the Deal lot. Literally. "The tent got to 113 degrees the other day," says Feimster, who assigned set decorator Ricky Bartlett (above, second from left) to make sure I didn't drill through my hand while mounting a water ski onto a skateboard base.
With nose and wing pieces from a Styrofoam jet model kit hot-glued into place, we wrapped the soon-to-be jet ski in blue camouflage contact paper and added a remote-controlled battery pack so Brady could ride it on stage. "The more interactive the item, the more time we get on the air with it," Feimster says of the most successful Zonks. "When Wayne enjoys it, we could get two minutes of him on screen with the thing."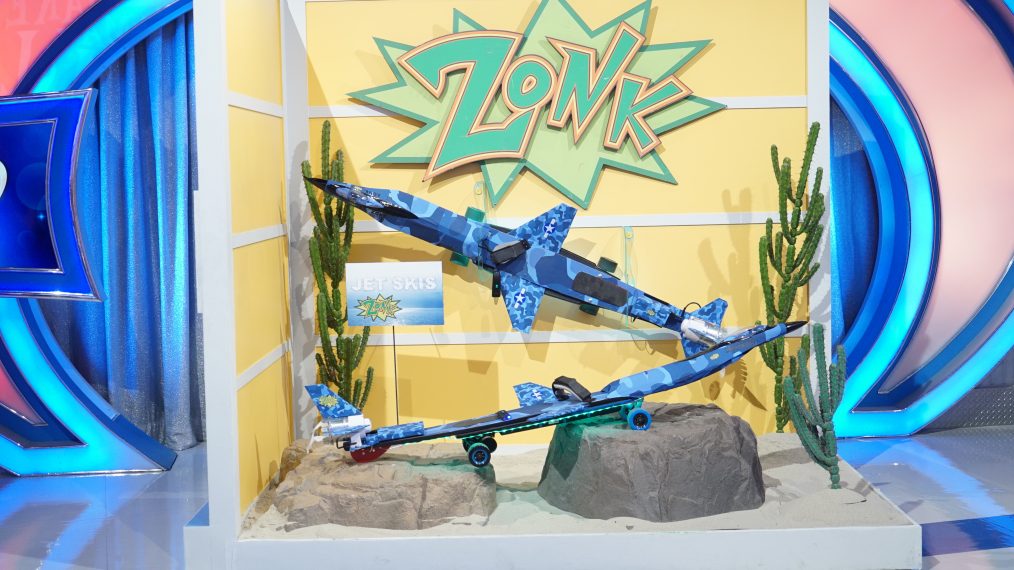 The final product! Between parts, labor and what was hopefully a huge insurance policy to protect Brady from my less-than-skillful handiwork, "this Zonk will probably cost around $3,500," estimates Feimster, adding that he scours eBay, Craigslist and other on-the-cheap sellers for items to use in building the acceptably ugly booby prizes. "We've built some things [where producers have said], 'You know, that's awesome, but it's too nice. It's got to be a Zonk!'"
Here's the deal where the Zonk made its debut, from the Nov. 7 episode:
Let's Make a Deal, Weekdays, CBS, check local listings.
Powered by