Jared Harris & the Cast of 'Foundation' Get Inside the Minds of Their Characters (VIDEO)
Foundation is Apple TV's visually stunning, brilliantly acted realization of Isaac Asimov's lauded 1951 sci-fi novel of the same name. The new series is set in the far future, where humans have created a vast civilization stretching across the Milky Way.
At the heart of this 1,000-year epic is genius Hari Seldon (Jared Harris). He's a "psychohistorian" (who studies a combination of history, psychology, and math) and runs the Foundation, an institute where he has created a mathematical model pinpointing how society will crumble.
"The vulnerability in his plan is that the action of any individual at any given point in time… has the ability to deflect, alter or greatly change the outcome," Harris says.
Personal freedom has never felt so powerful! But the rulers (a trio of clones collectively known as "Empire") fear Seldon's dire predictions will destabilize society. The strongest of them is Brother Day (Lee Pace) who considers killing Seldon and his followers including assistant Rayche (Alfred Enoch) and brilliant young math-mind Gaal Dornick (Lou Llobell).
Another storyline follows developments on a distant planet where colonizers live alongside a mysterious, force-field protected vault. That world is fiercely protected by Warden Salvor Hardin (Leah Harvey) whose strength and smarts are put to the test by outside forces.
Check out our interviews with the cast for more on what makes their characters tick.
Foundation, New Episodes, Fridays, Apple TV+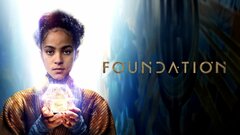 Powered by