See What the 'Outlander' Cast Looks Like in Real Life (PHOTOS)
Outlander is one of those shows that transports you, literally.
The time-traveling drama's third season was duly set in 18th-century Scotland and 20th-century Boston. And with any great period series comes the amazing costumes, stunning locales, and even better accents that help flawlessly transform the 21st-century actors playing these historical roles.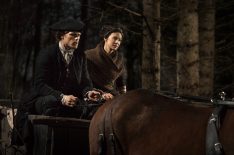 See Also
Prepare to see new and familiar faces.
Click through the gallery above to see how the real-life actors compare to their characters.