7 'Vampire Diaries' & 'Originals' Characters We Want to See on 'Legacies' (PHOTOS)
Legacies did a good job of establishing itself as its own show with its first season, but for its second, we'd like to see it remember its roots.
And that means looking back at not only The Originals, from which it spun off, but also The Vampire Diaries, which kickstarted this entire universe on The CW. And with the way the Season 1 finale ended, it wouldn't be too hard to bring back some fan-favorite characters into the mix to help everyone move forward.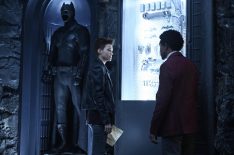 See Also
Four returning series and one new one are being held for the midseason.
At the end of "There's Always a Loophole," Hope (Danielle Rose Russell) erased herself when she dove into Malivore. (She also had Alaric burn every record she knew there was on her.) Could one of her relatives be key to getting her back (or at the very least someone remembering her)? It's possible, based on showrunner Julie Plec's comments to TV Guide.
"The way that Hope's storyline is shaping up, there's definitely a link to the family that got left behind … that we will have to address at a certain point," she said.
Also, Lizzie (Jenny Boyd) and Josie (Kaylee Bryant) also now not only know about the Merge but have the Ascendant. Could someone from The Vampire Diaries — not necessarily the character you might be thinking of — be able to step in and help?
See Also
It was hard to narrow down the list!
We've already seen characters such as Matt (Zach Roerig) and Jeremy (Steven R. McQueen), but we're hoping to see some other Vampire Diaries and Originals characters in Season 2. Click through the gallery above to see our picks.
Legacies, Season 2 Premiere, Thursday, October 10, 9/8c, The CW