'Grey's Anatomy': Everything Sandra Oh Has Said About a Cristina Return
Grey's Anatomy fans nearly went code blue when Sandra Oh recently ruled out a return to the ABC medical drama with an emphatic "no." But we shouldn't be so surprised. Oh, now starring on BBC America's Killing Eve and Netflix's upcoming The Chair, has spent years telling us not to expect another glimpse of Dr. Cristina Yang, the role she left behind in 2013.
Even so, it seems every interviewer is contractually obligated to ask Oh if she'll come back to the role that earned her five consecutive Emmy nominations. (The actress even started one of her responses to that question with "I wish I had a dollar…")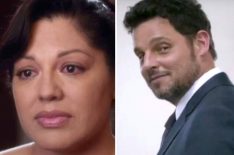 See Also
The abrupt departure of Justin Chambers is just the latest in a long succession of cast member exits from the ABC drama.
And even though she has expressed frustrations with her time on the hit series, Oh always expresses gratitude for the job and its legacy. In fact, the number of times she's asked that question just proves what a mark Dr. Yang made on the primetime TV landscape. "It's very rare, I would say, to be able to see in such a way the impact of a character," she said in her new interview on the Asian Enough podcast.
October 2013: "I would love to come back."
"Eventually, it will have to come to a close. I'd love to come back." [TVLine]
May 2014: "Of course I would."
"There are certain things that Shonda [Rhimes] and I talk about once, and then we leave it because we want things to happen without pressure. I told her, 'If you guys want to finish it out however you want to finish it out, I'd be more than happy to come back. And if it doesn't fit in that way, I totally understand. I just want you to know that I'm available.' Who knows! I might be doing something fabulous, and it might not work out, but I did say, 'Yes, of course I would.'" [The Hollywood Reporter]
February 2017: "At this point… no, I don't think so.
"At this point… no, I don't think so. … I just don't know. It would have to feel right." [Access Hollywood Live via Entertainment Weekly]
March 2018: "It doesn't feel right to me right now."
"I am moving on and very happy and excited to be in another relationship. You know what I mean? It's like I've moved on in my relationship and am so committed to this character and this show. Yeah, that's where I feel like my focus and my passion is. … I will say it's hard to beat that ending, because what I also realize is that it keeps it open in so many ways where you can continue on having that relationship with Cristina. I'm not sure. I guess I can't really answer it either way where I'm sitting right now, because I'm so committed to Eve. The idea of stepping back into the Cristina shoes, it doesn't feel right to me right now. But honestly, who knows how long Grey's is gonna go?" [Entertainment Weekly]
April 2018: "I'm just going to say no."
"I'm just going to say no. I'm just going to put that down there because it's been four years since then, and I've really got to try and create much more of that separation, even though I could just talk on and on and on about that show and what I feel like I learned from it and continue learning from it. It was so special, lightning in a bottle that's lasted for over a decade." [Variety]
June 2018: "Today [my answer] is no."
"I get [the Grey's] question regularly, and I answer it really based on what I'm feeling that day—and today [my answer] is no. … I love Eve. I really love her. I also love Cristina Yang. I'm constantly stunned at the response I still get from [Grey's fans], you know? It's so fantastic, and it pleases me. It gives me a tremendous amount of satisfaction that, you know, you did work that actually continues going on past the time that you've left it… It's really phenomenal. And the only way that I think I can continue doing good work is just staying true to my own compass. And that compass is pointing north." [TVLine]
April 2019: "Creatively, you have moved on."
"No. Creatively, you have moved on, and while I know, and I deeply appreciate, because I can feel it from the fans, how much they love Cristina and how the show keeps Cristina alive, for me, [Killing Eve] is my home now… this is where I am… I am Eve, and that's where I plan to stay as long as the show will have me, and that's really where I want to be." [Extra]
April 2019: "I'm not coming back."
"I'm not coming back. So much love and gratitude for that time, but I have a new love in my life now, and I want to hang out with her [gesturing to Killing Eve costar Jodie Comer]." [Entertainment Weekly]
October 2020: "There are so many new projects, and I'm a different person."
"I gotta tell you, I wish I had a dollar for the number of times… I'm extremely grateful that you're asking me that question because that means that people are still invested and interested in Cristina Yang, a character who I left six years ago. … There are so many new projects, and I'm a different person, and so I'd have to say no." [ET Canada]
May 2021: "In my mind, it's gone."
"Oh, my gosh, no. No. No. I love it, though, and this is also why I really appreciate the show, that I still get asked this. … In my mind, it's gone. But for a lot of people, it's still very much alive. And while I understand and I love it, I have moved on. So please come with me. Please come with me to Killing Eve and on to The Chair and on to the other projects. … Come see the characters that I'm playing that are much more deeply integrated in … the Asian American experience." [Asian Enough]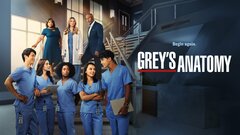 Powered by