Roush Review: On HBO, a Star Returns (in 'Divorce') and a New Star Is Born (in 'Insecure')
Can this marriage be saved? Should it? When you watch a show titled Divorce, which is just as sour in tone as it sounds, it's not so hard to figure out the answer to those rhetorical questions. Fasten your seat belts. You're in for a bitter and bumpy ride.
Somehow still as winsome and emotionally vulnerable as she was in her Carrie Bradshaw heyday, though playing a much pricklier and less sympathetic character, Sarah Jessica Parker tests the limits of our empathy in this pitch-black dramedy of unhappy white privilege from Sharon Horgan (Amazon's brilliant, and much funnier, Catastophe) and Paul Simms (NewsRadio, The Larry Sanders Show).
More Roush Reviews: See What Matt Thinks About Other Shows
In an opening episode that feels like an outrageous outtake from Edward Albee's Who's Afraid of Virgnia Woolf, we're introduced to brittle Frances (Parker) and forlorn husband Robert (Thomas Haden Church), who appear to be coasting through life in a state of passive-aggressive misery. They're shaken out of their rut when they attend the disastrous 50th-birthday party of her bestie Diane (Saturday Night Live's Molly Shannon, in great form), who's toasted with unveiled contempt by long-suffering husband Nick (Tracy Letts, who actually won a Tony for a Virginia Woolf revival). In the explosive fallout, Frances has an epiphany: "I want to save my life while I still care about it. I don't love you anymore," she tells her stunned mate.
Puking is involved.
Anyone who's either witnessed or experienced a nasty divorce—and isn't that just about everybody?—might feel equally queasy as they watch this suburban domestic nightmare play out with droll, frosty, withering wit. Divorce aims for that genre of "painfully funny" and mostly laugh-free comedy of interpersonal awkwardness that HBO is inexplicably fond of (example: the defunct Togetherness). And while there are moments of inspired absurdity—wait for Shannon to realize she's the last to learn of her friends' break-up—there's an overall joylessness to this ultimately predictable exercise in fine whining that left me dreading the moment when I was cuing up the next episode (I've watched six, and am ready to file my own papers).
RAE OF LIGHT: While it's undeniably exciting for HBO to welcome back one of its biggest comedy talents in Divorce, for me it's much more of a thrill to watch a fresh new star being born, as YouTube sensation Issa Rae (Awkward Black Girl) delivers hilarious riffs on race, class, sex and respect in the bold new comedy Insecure, which is anything but.
Playing a character also named Issa, Rae spends a lot of time in this show staring at herself in a variety of mirrors, often delivering self-affirming rap patter to snap her out of her funks. She may not always like what she sees, but I bet you will.
Developed with Larry Wilmore (black-ish, The Nightly Show), Insecure is brazenly confident in its comic, profane authenticity, a trait it shares with Donald Glover's equally distinctive Atlanta on FX. Set in a gritty and sensuous South Los Angeles, this is the next step in the revolution that began with Sex and the City and Girls.
Rae is disarmingly, fiercely funny in her frustrations, dissatisfied with a patronizing job at a non-profit and restless in a relationship with a seemingly aimless boyfriend (an endearing Jay Ellis). Her BFF, Molly (the smashing Yvonne Orji), has style to spare in her professional life as a corporate lawyer, but happiness continually eludes her as she embarks on romantic misadventures using an exclusive dating app.
The rom-com twists help make the show salty and addictive, and much as we'd like these ladies to someday get their act together, for now we're just happy to wallow in their insecurities. Long may they vent.
Divorce premieres Sunday, Oct. 9, 10/9c, on HBO.
Insecure premieres Sunday, Oct. 9, 10:30/9:30c, on HBO.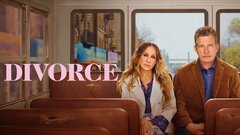 Divorce
where to stream
Powered by
Powered by