What's Worth Watching: 'Gomorrah', 'Mr. Robot', 'black-ish' and more for Wednesday, August 24.
Gomorrah (10/9c, SundanceTV): With HBO's powerful The Night Of signing off this Sunday, those with an appetite for meaty, adult crime drama are advised to book a trip to gritty Italy, courtesy of Sundance's latest European import—yes, that means reading subtitles—in the instantly gripping Gomorrah, airing over six weeks with back-to-back episodes. The series evokes the classics, with a Godfather-like painterly darkness to its cinematography, while popping with contemporary Tarantino-style attitude: We first encounter the Camorra crime clan of Naples through an old-school gangster griping about modern music and his mother's Facebook account. His partner, bald and bold Crio (Marco D'Amore), is dubbed "The Immortal" for his ability to walk away unscathed from perilous situations. The story of Gomorrah will test Ciro's powers, when the family boss is jailed and a struggle for power ensues between the don's icy wife and his reckless, immature son—whom Ciro has been tasked to mentor. Plenty of action and intrigue, with an authenticity as pungent as vintage vino.
Mr. Robot (10/9c, USA): Well, that was quite the twist last week (though some, typically, saw it coming), with Elliot (Rami Malek) revealed to be narrating this season from prison—and not just the mental one he shares with Mr. Robot (Christian Slater). On the outside world—or is it?; on this show it's never quite clear—the embattled fsociety releases a new video.
black-ish (10:30/9:30c, ABC): Here's a reminder why this exceptional family comedy earned an Emmy nomination for Outstanding Comedy Series and a Television Critics Association award this summer for Outstanding Achievement in Comedy. In this tremendous episode from February, (reminiscent of the golden age of Norman Lear issue-oriented comedy), the multigenerational Johnson family gathers around the TV to watch and debate what unfolds in another case of police exerting excess force with an African-American teenager. Mother Bow (Tracee Ellis Ross) would like to shield her youngest, twins Diane (Marsai Martin) and Jack (Miles Brown), but papa Dre (Anthony Anderson) argues, "They're black children and they need to know the world we're living in." (Precocious Jack can't help wondering, "Why is everybody acting surprised that we can hear their conversation?") Black lives matter, and so do words, in one of TV's most relevant comedies.
Inside Wednesday TV: Having survived past installments of Naked and Afraid, so-called "fan favorites" EJ Snyder, an Army vet, and survivalist Jeff Zausch team up—presumably clothed—for a new season of Discovery's Dual Survival (9/8c), battling extreme conditions in gator-teeming Louisiana swamps, dark caves in Georgia's Caucasus Mountains and deserts in southern Brazil. … A mercy mission unfolds in Animal Planet's documentary special Toucan Nation (10/9c), depicting the rescue efforts on behalf of Grecia, a toucan in Costa Rica who made international headlines after half of his beak was torn off in a notorious case of animal cruelty. Using cutting-edge techniques, doctors and engineers design a prosthetic beak for the mutilated bird. … LeBron James and business partner Maverick Carter give back to the community in CNBC's Cleveland Hustles (10/9c), a new series in which local investors in Cleveland decide which small businesses to support in a struggling neighborhood. In the premiere, an artisanal bagel maker and a hair-salon entrepreneur get 48 hours to open a one-day pop—up store to impress their potential benefactor.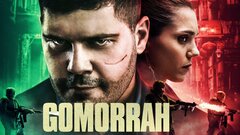 Powered by