'Country Ever After's Coffey Anderson on His and Criscilla's Unique Marriage
What happens when a Black country singer falls in love with a white hip-hop dancer? A couple who lives Country Ever After! The heartwarming Netflix reality series follows the cowboy hat-wearing Coffey Anderson and city-slicker wife Criscilla, plus their three "E" kids, Everleigh, Ethan and Emmaria.
An independent singer-songwriter, Coffey is looking to take his career to the next level. The charismatic star has been on the grind for well over a decade, going from American Idol and Nashville Star to touring and producing country music on his own. Meanwhile, Criscilla, who has appeared in music videos for everyone from Britney Spears to Rihanna, has been bravely fighting colon cancer while hoping to get her own career back on track.
Here, Coffey talks about the first season that recently dropped on the streamer.
How are people responding to the show?
Coffey Anderson: The feedback has been honestly overwhelming. We have over 5,000 messages just on Instagram! Our show and what we're going up against and overcoming are really resonating with not only the country music community but athletes, celebrities and a lot of other people.
When you think of reality shows, you think drama. Here there is such a positivity that comes from watching it.
The reality show came from a viral video of my wife and I when I played a joke on her. It's the "E-Y-E-S" video. I said, "Criscilla, what does Y-E-S spell?" She said, "Yes." I said, "Well, what does E-Y-E-S spell?" She said, "E-YES." Well, it spells eyes. I kept asking her and kept laughing because she was not getting it. In the middle of that video, I mentioned networks and companies [should] call us and that we needed our own show. One of them called. They asked why we think we should have a reality show. I said, "Well, I'm a Black country singer. She is a white hip-hop dancer, and we live in Holly-weird."
The production company created the The Real Housewives of Orange County. This one guy tells me he wants to make a show his mother can watch. I got choked up and said, "Do you have a good mama?" He told me yes. I told him, "Well, I had a good mama, but she went to heaven. Let's make this deal on good mamas." That's how we did our deal, on that handshake. We set out to do a show that families can relate to. Shout-out to Evolution Media and producers Alex Baskin and Roma Downey for saying, "Let's make a show that is completely opposite of the spectrum."
Criscilla's cancer fight and how the family comes together in support of her is a big part of the season. Was there any trepidation about opening up so much and having the kids involved?
As a husband, you're going to preach, protect and provide. I wanted to make sure these kids were protected, that things didn't get weird and they would be safe. I felt comfortable with [the producers, although] showing the ugly side of her treatment and side effects of the chemo was hard for me.
The first day they were filming, she had come from chemo and was in and out, groggy, nauseous and in pain. A lot was happening. I asked the crew to leave. They cleared out my house. Lights, producers, cameras—all out. When she woke up, she said, "You got to let them see it. You got to let them in. People have to see the whole story." It really put me at ease. I thought at that point I would let my guard down, but my family was more open than I was.
Speaking of which, Paw Paw steals all the scenes he is in.
[My father] Paw Paw and Everleigh Rose stole the show. And I'm good with it. They are who they are. We all have that relative with no filter. Mine just happens to be my dad.
This show could be a great vehicle for fans to discover your music. Why do you think you didn't break through in a traditional sense after exposure from shows like American Idol and Nashville Star?
I think because I evolved with technology. At the time when I went to American Idol [Season 2], if you didn't have a record deal, the only way you could get heard was being on TV in reality show competitions. By Nashville Star [Season 6], I had already a couple of albums out. I felt like the show would give my sales a boost. I think with the major label business model, there are more consumers of music than there are content creators.
I think there is a massive wave of income for independent artists. I thought going independent would be good for me because I wouldn't have to explain what I'm doing and wait. When you think about country radio, there are around 13 songs that can really get played on country radio at one time. They don't have room. It's the same 13 people who make the money. That's good for them, but I thought there was more of an upside in technology for me in this space. The new MTV is YouTube and the new radio is the iPhone.
The final episode features you performing a big gig and reflecting on the road you've been traveling over the past 14 years. It really demonstrated how far you've come.
I'm a vision guy. I'm always the one looking to cut down high grass and find a new way. When I saw the last episode, I sat on my couch and when I came on as a young man 14 years ago, I got choked up. My wife looked up to me and said, "You did it." Someone asked me what I would tell that young man. I would tell him he is the bravest person. He saw it before I did. I'm grateful for that young man having the courage to do it. It's almost like I'm watching someone else.
How has it been watching yourself back from a different lens?
Whose home videos are on Netflix besides us? Just seeing that and going, "My son has really gotten big" really makes me appreciate every day because just a year ago [the kids] were that little.
A lot of people are going to be wondering how Criscilla is doing. What's the prognosis now?
She is still fighting cancer. She is Stage 4. It has moved from the colon to the lymph nodes. She is in a clinical trial with immunotherapy right now and still fighting. She is the strongest person I've ever seen. They are hopeful with this new treatment. It is an 80 to 90 percent success rate, and we're hoping to be that 80 to 90.
Will there be a Season 2?
We will find that out soon. We would be open to it. We really enjoyed telling our story and seeing how many people find common ground. It's exciting.
What do you want people to walk away with after watching the series?
I want them to say, "Wow, I laughed, I sobbed, and I needed that." In the middle of such a volatile election and COVID worldwide, we are shown visual trauma, deaths, all these things happening. This show allows you to heal and laugh. We have gotten letters from Dubai, New Zealand, Australia, U.K, Canada, Brazil. Wow.
Country Ever After Season 1 streams on Netflix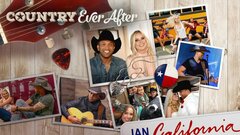 Powered by