Steve McQueen's 'Small Axe' Tells Important Stories of Overcoming Discrimination
Change comes in stirring stories of social justice with Amazon's Small Axe.
"Individually it's very difficult, but in the collective you can be heard," says director Steve McQueen (12 Years a Slave) about the power of people coming together.
He weaves that theme through this weekly anthology series of five inspiring films, set in the late 1960s to mid-'80s, which tell important stories of London's West Indian community facing — and overcoming — discrimination.
The first of those films, Mangrove, starring Black Panther's Letitia Wright, recounts the landmark 1971 court case against the Mangrove 9. After a dozen police raids on the Mangrove, a Caribbean restaurant in Notting Hill, a series of peaceful protests began. When one turned violent, nine Black activists were charged with conspiracy to incite a riot.
Following a 55-day trial, they were found not guilty. "That verdict was quite immense, for everybody — [reinforcing] the freedom and right to demonstrate and congregate," says McQueen. "I'm speaking with you today because of people who were completely hopeful about things getting done for a better tomorrow."
Small Axe, Premieres Friday, November 20, Amazon Prime Video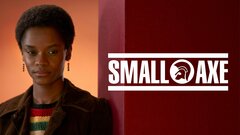 Powered by