David Dobrik Is Glad to Be Host of 'Dodgeball Thunderdome' & Not a Contestant
If you don't know David Dobrik, you need to. The Slovakian-born YouTube sensation is a self-made multimillionaire whose become one of the biggest influencers on social media today. The Wall Street Journal named him "Gen Z's Jimmy Fallon," People named him Sexiest Heartthrob of 2019 and Discovery Channel named him host of the hilarious Dodgeball Thunderdome.
Dobrik, who grew up in Vernon Hills, Illinois, has fond memories of the sport growing up, which was mainly played at his school when they had a substitute gym teacher. "We never got to actually pick our own teams, because our high school was really weird about people getting picked last and it hurting their feelings. That's not like our show, because on Dodgeball Thunderdome, there are people that get picked last, and it is very sad," he jokes. "That's the best part to watch."
Here Dobrik takes our questions head on, and offers a few pointers on surviving the game, too.
Many people dreaded dodgeball growing up — it was like their worst nightmare. How did you fare when you would play dodgeball in high school?
David Dobrik: That's what I've been hearing, too. Maybe I'm just so biased, because when I was in it, I absolutely loved it. I was like there's no way anybody can hate this, but I guess I was just so in my own zone about dodgeball that I never realized that there was somebody on the other end of the dodgeball game where they were getting pegged with these balls, and they just weren't a big fan of it. I loved it. Again, I am biased, because I just had the best time throwing balls at people.
On Dodgeball Thunderdome the course is so brutal and punishing. Lots of people are getting shots to the face. Off-camera, what are the war wounds like? And poor Suzy [his friend] who took that color blast shot to the head.
Suzy's head almost flew off. I mean, no, it definitely gets intense. I don't think we've had any serious injuries, which is mind-blowing, but I think the perspective I have on the course is the same as a lot of people have on just dodgeball in general. I don't want to go anywhere near that course. I am so happy that I get to host the thing and not actually have to participate. Not only is it painful, but you get so muddy, and you're in the middle of the desert, so it's like 105 degrees, and then the mud just crusts all over your knees and your elbows, and you're just like a walking ceramic vase. It's brutal. The whole thing is very punishing.
How good are your instincts when it comes to sizing up the competition?
Going into this, I had a pretty good idea of who I think would win, but there's a lot of underdogs that end up winning the show, which is really fun, and people pick teams. Sometimes, people will pick a goofy person who you'll think is so wrong to pick, but then they'll really just end up contributing a lot to the team, whether they're distracting the other opponents or they just have so much energy that they're taking all the shots. I think it's really anybody's game. That's why it's so good — you can have a geek versus a jock, a firefighter versus a librarian, whatever, and it's anybody's game.
After the cameras are done rolling, how are the contestants toward each other? Is it still pretty competitive, or do people just walk away thinking it was a good time?
Surprisingly, even though there's $25,000 on the line, surprisingly, people take it pretty OK when it's all over and they don't win. I think when the day is over, whether you win or lose, you're kind of still a winner, because you get to go home and shower. I think people are so focused on getting cleaned up that they don't even realize they lost the game.
What are some tips you've learned from watching that you'd use?
I think a lot of people get really caught up with the course. They get so caught up in running the course and throwing the ball that they forget that the most important part of dodgeball is to dodge. I'm going to focus on that, and I'm going to make sure, if I ever get back in a four-on-four situation, like back in high school, I'm going to make sure that I stay back and keep my composure, and attack when all the balls are on my side, and I have dodged everything else. After my entire five years of living in L.A., I'm finally taking something that I can take home and apply it to my high school. It'll be nice.
If you had to pick your team, are you going to assemble old-school friends (like Alex, John and Michael) or new-school?
Wow. I can't believe you know my old friends. That's very cool. I think I would definitely go with my newer friends here, because they're a lot more athletic than the guys I got back home. Alex and Mike and John's sports days are way, way over. I think they all retired in like the third grade T-ball, so I would definitely have to go with my L.A. friends who look like they're out of a magazine because they work out eight hours a day. I'd go with them for my dodgeball teammates.
You are an amazingly generous and inspiring person with all these giveaways that you've been doing to help others. Is there one that has touched you emotionally and stayed with you maybe longer than others?
It wasn't a car giveaway, but we went for a college show, and there was this girl who was DACA [Deferred Action for Childhood Arrivals] and this guy friend who liked her who was also DACA. I'm DACA, too, and so were her two friends, so we're all basically illegal immigrants. She worked like three jobs, and she has a kid, and she was like 19 years old, and we got to surprise her with, I think, $25,000. I was just so excited to do that. I just really got to know them. That was a really fun time. That's the best part of my job. I know it sounds so cliché, and it sounds like I'm just saying it to say that I'm a good person, but giving people something is like the most selfish thing you can do, because you feel so, so good once they receive it. It's so much better than receiving a gift. Receiving sucks, because then you have to react, and you have to be like, "Oh, my god, this is amazing," but giving is like so, so @#$%ing great, especially when you have the opportunity to do it like I do, which I'm really fortunate to be able to do it.
Dodgeball Thunderdome, Wednesdays, 9/8c, Discovery Channel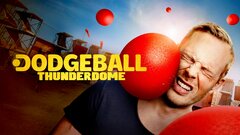 Powered by