'Bones': Booth is an Accidental Wingman for Aubrey (VIDEO)
Though Bones' Aubrey (John Boyd) has taken a step forward in his relationship with Jessica (Laura Spencer), it seems he has another suitor waiting in the wings.
In an exclusive clip from this week's new episode, Karen (Sara Rue) drops by Booth's (David Boreanaz) office and vetoes the latest case theory he and Aubrey have been working on…and she, awkwardly, tries to ask the junior agent on a date.
Unfortunately, Aubrey isn't picking up on Karen's signals, and Booth has to come through for his friend.
Bones, Thursdays, 8/7c, Fox.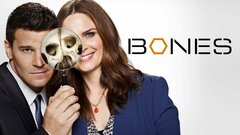 Bones
where to stream
Powered by