Cheers & Jeers for 'Supernatural' (Yay!), a 'Supergirl' Slight (Nay!) and Piers Morgan (Bey?!)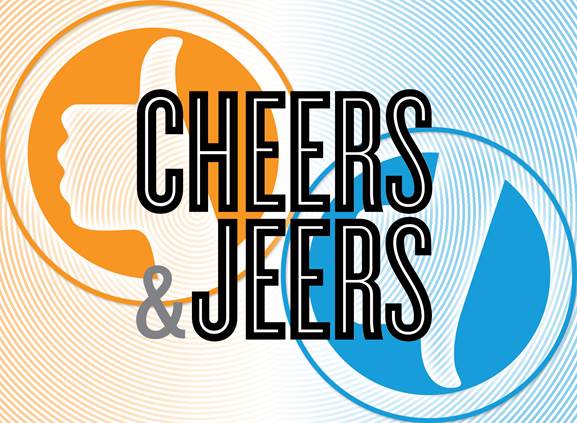 Cheers to The Goldbergs for giving us more
"The 80s Rewind" episode that aired this week gave the hilarious cast a chance to discuss playing show creator Adam Goldberg's real-life family and gave us non-stop smiles, courtesy of bloopers and behind-the-scenes. Now if only the Emmy voters would do everyone the courtesy of giving this delicious sitcom some damn attention!
RELATED: Read More Cheers & Jeers
Cheers to Supernatural for aging so well
There really is something scary about how fun it is to watch Jensen Ackles and Jared Padalecki. Deep into their 11th season, their Winchester brothers are still capable of scaring up a heady blend of chills and giggles, which definitely helped ease some of the eeriness of their recent hunt for creatures preying on a Colorado town.
Cheers to Marie Avgeropoulos for giving 100 percent
This tiny spitfire has always been a force of nature, going all the way back to when her Octavia Blake could have become just "the bad girl" of the sci-fi drama's Earth-bound juvies. But this season, she has truly rocked our world with a riveting, emotionally raw performance as Octavia has dealt with her brother Bellamy's deadly deceptions and beau Lincoln's murder.
RELATED: The 100 Hits a Roadblock (VIDEO)
Jeers to a real Live! mess
Now that Kelly Ripa has gotten her apology from Disney and the GMA-bound Michael Strahan has secured an early exit, all we see are two foes smiling like their lives depend on convincing us they're happy to be hosting together again.
RELATED: How Live! With Kelly and Michael's Happy Talk Became So Toxic So Fast
Jeers to Piers Morgan for choking on "Lemonade"
Thirsty for attention much? The last person to call out Beyonce's visual album as the work of "a born-again black woman with a political mission" is a British white guy who's greatest struggles have been Celebrity Apprentice tasks, phone-hacking scandals and never being as relevant as he think he is.
Jeers to CBS for holding out on our heroine
You know, as powerful as she is, Supergirl is not going to renew herself. Get to it, people!