'Last Man Standing': Is Reba McEntire Trying to Woo Back Tim Allen? (VIDEO)
Look who's climbing her way to Last Man Standing!
Reba McEntire, the country music legend, is stopping by the ABC sitcom tonight as Billie Cassidy, the ex-girlfriend of Mike (Tim Allen). Billie is an adventurous gal and serious climber (five peaks!) and Mike's looking to get her climbing gear to sell in the store. But a promotional pitch might not be all she wants, when she proposes to take Mike along on her next climb…just the two of them…alone…"just like old times."
Mike's boss, Ed (Héctor Elizondo), is all gung-ho, but Mike's not so sure about breaking the sudden trip news to his wife.
Watch the exclusive clip below to see how the entire conversation between Mike, Billie and Ed plays out.
[jwplatform reDiMiEC]
Last Man Standing, Fridays, 8/7c, ABC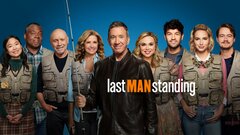 Powered by