'Champions' Star Josie Totah Comes Out as Transgender
On Monday, former Champions star Josie Totah, previously known as J.J. Totah while starring on the NBC show, came out publicly as transgender.
The 17-year-old star shared her truth in a powerful essay for Time, titled "My Name Is Josie Totah — And I'm Ready to Be Free." Totah opened up about her acting roles in the industry, saying that while she was thankful for playing characters like Michael Patel on Champions, she felt like she was stuck in one box.
See Also
And how he and the 'Office' alum came up with the NBC series.
She writes, "When I was really young, growing up in a small town in Northern California, people would just assume I was gay. On the playground, I was the type of kid who wanted to sing with the girls, not play soccer with the boys. Then I found myself playing that role once I got into the entertainment industry, and people kept assuming my identity."
Totah, who has appeared in other TV series like Glee and 2 Broke Girls, adds that she prefers the use of female pronouns. "My pronouns are she, her and hers. I identify as female, specifically as a transgender female. And my name is Josie Totah," she proclaims.
https://t.co/Ltz8ttemoB For so long I've been trying to hide who I was. And I did it in fear. In fear that I wouldn't be accepted or loved. I know now more than ever I'm ready to take the step to becoming myself. I am Transgender and this is my story.

— josie totah (@josietotah) August 20, 2018
The actress shared the essay via her Twitter page, where she wrote,"For so long I've been trying to hide who I was. And I did it in fear. In fear that I wouldn't be accepted or loved. I know now more than ever I'm ready to take the step to becoming myself. I am Transgender and this is my story."
Totah is now heading off to college, wrapping up her essay by assuring fans that she will continue her acting career. "I can only imagine how much more fun it's going to be to play someone who shares my identity, rather than having to contort myself to play a boy," she adds. "I'm going to gun for those roles, be it a transgender female or a cisgender female. Because it's a clean slate — and a new world."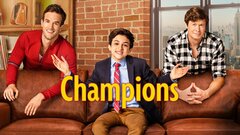 Powered by