'Animal Kingdom': Will Frankie Listen to Craig and Steer Clear of Smurf? (VIDEO)
Watch yourself, Frankie!
That's the advice given by Craig Cody (Ben Robson) to Frankie (Dichen Lachman) this week on the Season 3 finale of Animal Kingdom. Frankie came into the Cody world with Deran's absent father/Smurf's ex, Billy (Denis Leary) before Billy robbed Deran (Jake Weary) before skipping town. But Frankie decided to not go with him and has found herself very cozy lately with Craig.
See Also
The actress talks her character's ability to forgive and what she hopes to see from the rest of the season.
In this week's finale of the TNT hit drama, already renewed for a fourth season, Craig gives Frankie a little warning about his mother, Smurf (Ellen Barkin), who, newly released from prison, has been inserting herself back in her sons' lives (whether they want her to or not).
However, as Frankie says in this exclusive clip, she likes Smurf and, as seen in last week's job when she pulled Craig into a heist of her own, she may be able to relate to a powerful woman calling the shots in a world of men. Check out the sneak peek here:
Animal Kingdom, Tuesdays, 10/9c, TNT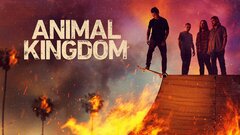 Powered by